Azure is Microsoft's billion-dollar baby – maybe
More like a whole lot of software sold to partners
---
Curt Anderson, CFO for Microsoft's Server & Tools Business, was feeling chatty during an interview with Bloomberg, bragging that in the past year Redmond topped the $1bn sales mark with Windows Azure.
Or, maybe not. The Bloomberg story doesn't quote whatever Anderson said directly, and if you read down a bit further into the story you see that this $1bn is not just for raw compute and storage capacity on the Azure cloud, but also includes "software provided to partners to create related Windows cloud services."
El Reg has calls in to Microsoft to try to get clarification on what precisely is in that $1bn number, but Microsoft has not yet responded. It seems likely, however, that the bulk of that revenue figure comes from peddling Windows Server, Systems Center, SQL Server, and any other wares that service providers, telcos, and hosters have bought to build Windows-based clouds.
It's hard to imagine it being even a 20-80 split for Azure proper versus Azure-alike, and the ratio is probably something on the order of 10-90 if you put a gun to our head and made us guess. And maybe more like 5-95.
Takeshi Numoto, vice president for marketing for S&TB, told Bloomberg that Azure has had at least 10 per cent revenue growth in the past nine quarters, and added that subscriptions on the Azure cloud have jumped by 48 per cent in the past six months as Microsoft moved toward general availability of commercial-grade support on its cloud, complete with prices that meet those of rival Amazon but importantly are not lower than what Amazon charges as they were during the Azure beta.
The artificially low prices were intentional on Microsoft's part, and so designed to attract customers to Azure and away from Amazon Web Services.
Two weeks ago, S&TB president Satya Nardella told the New York Times that the Azure cloud had 200,000 customers, which is considerably more than the 10,000 it had three years ago.
What Microsoft has not said is how many of those customers are paying, and how much revenue and profits they are generating. And El Reg does not expect Microsoft to say much about it until the Azure cloud proper has a large number of real, paying users and is actually itself raking in a billion simoleans – in other words, when it becomes a material business in its own right that compels Microsoft to talk specifically about it in its financial reports, not in passing during an interview.
Microsoft has to make up a lot of lost ground to catch up with Amazon Web Services, which should be at a $2bn annual run rate this year. That is actually a little bit behind the projections El Regmade in May last year, when it looked to our math (based on incomplete data provided by Amazon in its financials) that it would have hit $2.1bn for 2012.
But with constant price cuts and changes in the system that allow companies to trade instances, as well as with increasing competition, it would not be a surprise that Amazon's cloud is not growing revenues so fast. That's OK, because Amazon founder Jeff Bezos is perfectly happy to make it up on volume and only have a penny on the dollar for profit.
IT vendors hate that kind of approach.
Windows Azure virtual networking
Windows Azure compute infrastructure services went live a few weeks ago and will have their prices kick in at the AWS level for equivalent function on June 1. If you want to attract enterprise customers, such as the untold millions of businesses who run their workloads on tens of millions of Windows-based servers, you need to have a virtual private network that can link the corporate data center to the Azure cloud
Venkat Gattamneni, senior product manager for Windows Azure, put out a blog post on Friday to review some of the new capabilities that Microsoft has added to Azure's networking.
First of all, you can now use the Routing and Remote Access Service (RRAS) feature of Windows Server 2012 as a virtual private networking server inside your own data center, and create the tunnel out to the Windows Azure cloud. You can still buy VPN software or a VPN appliance if you want, of course, to make that tunnel. This is shown as Site-to-Site VPN in the diagram below: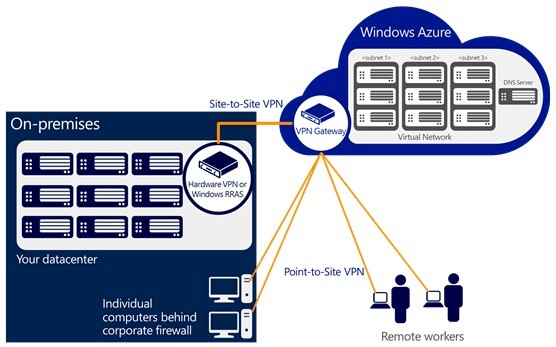 Microsoft gets the point with virtual private networking
The interesting new feature in Azure Virtual Networking is called Point-to-Site VPN, and Gattamneni says that it has some capabilities that other VPN software cannot do on other public clouds. This seems hard to believe, but if it is true it won't be true for long, if what Microsoft has done is useful.
Basically, the point-to-site feature allows for workers behind the corporate proxy or firewall to link over the corporate network to specific instances on the Azure cloud either through Windows Server 2012 RRAS or a VPN appliance. You can also create a remote connection securely if you are outside the corporate firewall. ®