Is it me or did cloud marketing suddenly get really weird?
PR bods are going ga-ga on cloudy fumes
---
Comment As cloud computing shakes up the IT industry, marketing departments are going into overdrive attempting to somehow – no, anyhow – gain what they call "traction." And it's starting to get weird.
We here at Vulture West appreciate that companies need to get the message out there, but everyone is prone to cock-ups, and the breathless enthusiasm with which vendors have adopted a cloud mentality has led to some rather quirky marketing.
There's a fine line between creating a sense of shared community and purpose, and press-ganging other scraps of culture into the service of strengthening your brand. Though the examples are many, here are four particularly egregious cases where major vendor marketing becomes a little bit unnerving:
Exhibit A: Oracle
This Iron Man-inspired short story sees an emissary from the database company meeting with Stark industries' CIO who – quelle surprise – has some strong feelings about Oracle. The latter half of the piece is a series of dramatic monologues by the CIO, in which they opine upon ethics, morality, and self the benefits of the Oracle cloud.
"So as you can see, Stark Industries' commitment to Oracle Cloud is ironclad, and with good reason," Carter explained. "We're tapping the industry's broadest set of standards-based, integrated services – application, social, platform, and infrastructure – all completely managed, hosted, and supported by Oracle. And given the mission-critical nature of our business, we didn't have time to waste on integrating across multiple clouds."
If that merely whet your appetite, here is the story in full.
Exhibit B: The OpenStack Foundation
Though Oracle's story should be applauded for both its chutzpah and canny tie-in with a hotly anticipated movie, open source cloud control freak boosters the OpenStack Foundation have gone one better and formed their own rap group – Dope 'N Stack.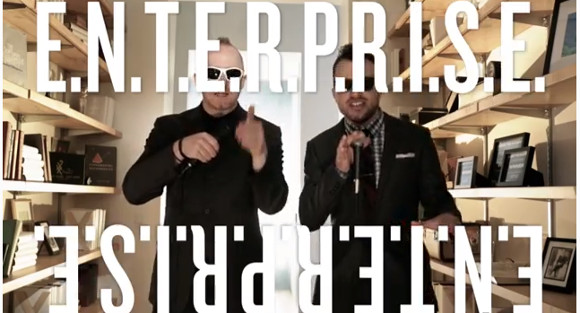 Would you buy a cloud from these men?
So far, the duo have produced two rap videos about the benefits of the OpenStack cloud, and its relevance to the enterprise. Here's an extract from their first "single" Cloud Anthem:
"We're gonna rock your cloud / This is an open future / That we're talking bout / So baby listen close / We're gonna feel this track / Cos you know you gotta get this OpenStack / Hoo, ha, ooh net like I'm quantum, / Web-scale virtual NICs, yeah I flaunt them, / Tricky subnets now they're gonna see the light, / Every itty bitty packet getting routed right"
Exhibit C: Microsoft
Dope 'N 'Stack were brought into being to promote OpenStack, but Microsoft went straight to the source and enlisted "the world's fastest rapper", Seattle-based NoClue, to produce a video in October 2012 that extolled the benefits of Amazon Web Services-killer Windows Azure.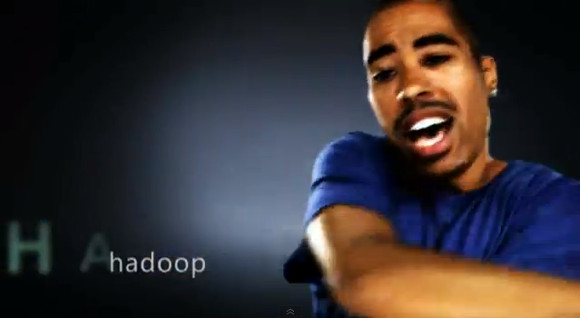 Rap music is good for many things, but selling distributed computing?
In his song, Mr NoClue lists some of the benefits of having Azure in his "online backpack" before outlining Azure's key differentiator:
"SaaS / Software / Paas / Platform / IaaS / infrastructure / together at last"
Exhibit D: Rackspace
Though short fiction and rap videos can help appeal to the more contemplative (Oracle), or younger demographics (OpenStack Foundation, Microsoft), there's nothing quite like a corporate slogan. Enter Rackspace.
The Texan cloud company co-founded OpenStack along with NASA in the heady days of 2010. Since then, it's been benefiting from the rise of the cloud technology through press mentions and its own innate expertise with the platform. All this has called for a new slogan, which the company is putting in the mouths of all of its executives and is even using to bombard individuals via a major media campaign.
The slogan? "We've open-sourced the cloud."
Closing Arguments
We feel these four examples highlight how companies are willing to sacrifice a bit of sense and consideration in the service of marketing, as they hope to get noticed in a crowded cloud market.
But it also strikes us there could be another reason for the creation of so much seemingly inappropriate or silly marketing – an attempt to generate what this vulture calls "backspin." Backspin is where you produce a thing so improbable, quirky, or downright bad that it generates a ton of interest. And backspin could be at play here – Mr NoClue's video has notched up near 80,000 views on YouTube, though Dope 'N Stack have managed a mere 16,000 across two videos. ®
Bootnote
Though not strictly cloud, Intel's German division launched a range of designer Ultrabook bags in 2012 to promote the chip company's answer to the success of Intel's Apple laptops.
The high-end bags cost hundreds of Euros each and were designed by famed German designer Michael Michalsky, who gave a verbose presentation to various assembled CeBit hacks and (increasingly bemused) US Intel execs about the benefit of this.
The press conference is worth a watch, particularly the strained laughter elicited by Michalsky's decision to give the man-bags an Intel blue lining, while lining the women's bags in a "dusky pink."