FalconStor on 13th quarterly loss: 'Unpredictable' OEM dragged us down
And the previous 12 quarters?
---
FalconStor has blamed "unpredictable performance" from one of its biggest Chinese OEM partners for the dent in its first quarter revenues. It has now totted up 13 loss-making quarters - although last quarter saw a boost in revenues - and the storage virtualisation supplier's lot is not a happy one.
The company is trudging uphill trying to recover from the 2011 loss of its founding CEO, ReiJane Huai, with CEO and president Jim McNiel leading the charge to pick up the pieces and get the company back on track.
The company called in financial bods Wells Fargo to look at "strategic alternatives" in November last year, but five months later the Pony Express banking posse hasn't come up with any ideas.
Like any storage management, resource and data management supplier, FalconStor has to sell better products than the mainstream storage array vendors. Moreover, the New York State-based company needs to sell products that don't depend upon the big vendors to OEM them. That business model is broken.
FalconStor's first quarter fiscal 2013 revenues were $15.3m, 21 per cent down on the $19.4m recorded a year ago. They were also 32 per cent down from the $22.5m reported in the previous quarter, the last one of FalconStor's financial year. It's worth noting that FalconStor Q1s are traditionally lower than its Q4s.
Profits? Forget those: FalconStor made a net loss of $4.4m, compared to $2.4m a year ago and $2.3m in Q4 2012. The chart shows these numbers in all their glory: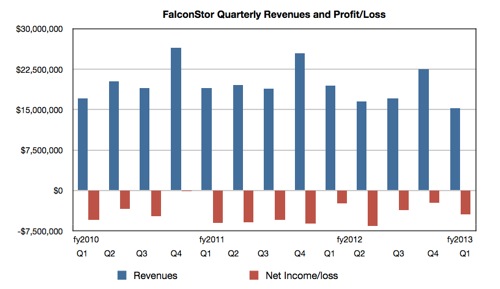 Putting the last few years' numbers into a graph presents an overall picture that clarifies the trends: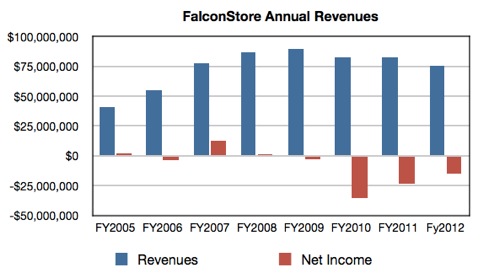 We can see that, although revenues are declining, losses are shrinking faster, so management is working hard to improve things. What did management say about the latest quarter to account for the revenue downturn?
Jim McNiel, president and CEO, pointed the finger at Asia and southern Europe in the earnings call: "Primarily, we suffered a significant setback in our AsiaPac region, a region that has historically had very strong continuous double-digit growth for us. It was under some pressure from tensions on the Korean Peninsula and governmental changes in Korea, Taiwan and China … In the European region, we continued to have sluggish performance, specifically in the Southern parts of Europe."
CFO Louis Petrucelly added more colour, breaking down the company's performance by geographical region:
"Product revenue from our OEMs decreased 81 per cent or $600,000 compared with Q1 of 2012. This was due to a decrease in revenue from one of our largest OEM partners in China. This OEM underwent an internal reorganisation in 2012, which disrupted their business operations, resulting in unpredictable performance. As we entered 2013, we continued to experience the unpredictable performance from this OEM, making it difficult to predict revenue on a quarter-over-quarter basis."
He blamed the general economic woes affecting the European and North American markets for FalconStor's poor performance this quarter, noting that non-OEM revenue was down by 25 per cent in Europe and 16 per cent in North America.
On the positive front, McNiel said: "We have developed relationships with Fujitsu and Dell [to assist customers migrating into the cloud] and we intend to expand our migration ecosystem with other partners and expanded partnerships."
He also expects the AsiaPac upset to subside and revenues return to a normal pattern. Fifty new customers came on board in the quarter.
A new executive veep and chief product officer, Ralph Zecha, was appointed in April. His focus is on making FalconStor's product lines sparkle again, as well as adding new products. The company needs some new software shots in its product locker, the contents of which are looking a little tired.
McNiel alluded to Zecha's task and implied that development engineering was in a bit of a mess: "Primarily we need to become more adept at adjunct development, behavioral-driven development, web related or web services oriented technology as well as Software-as-a-Service technology to support managed service providers that have multi-tendency implementations."
What about Wells Fargo, whose activities may affect longer term ideas? McNiel said: "Our process with Wells Fargo continues, and at the point that we have something material to report, we will certainly do so in a prompt manner."
Petrucelly also pointed to problems affecting sales: "As decision-makers in IT departments are now contemplating their traditional storage needs versus cloud-based alternatives, we are starting to experience headwinds in the form of elongated sales cycles and pressure upon deal sizes."
There's no need for FalconStor software in public clouds, so the company better develop private cloud software tout suite.
Finally, Petrucelly said that the company plans to release as-yet unspecified technology in 2013 which will boost the company's flagging fortunes.
"We believe we are in a position to execute on our plan of delivering new and disruptive technology in 2013 with the intention of returning the company to profitability."
Not this year, surely? Maybe by 2014 - if we're lucky. And does FalconStore have disruptive technology in in its engineering facilities? Sure, they have a roadmap, but actual disruptive technology? We'll believe it when we see it. ®