Oz volcano's lava lake spills from crater
Steamed walrus, anyone?
---
Australia's only active volcano is rumbling fiercely, with new NASA photos revealing its lava lake has overflowed its crater.
The volcano in question, Big Ben, is happily located on Mawson Peak in the remote southern reaches of the Indian Ocean on Heard Island, an Australian territory. People only bother to visit Heard and its neighbour McDonald Island every couple of years, because there's little there but chilly wastelands and the territory is a nature reserve people aren't allowed to visit without a permit. Even fisherfolk chasing the apparently tasty patagonian toothfish, aka Chilean Sea Bass, don't often bother landing.
No permanent human presence exists on the islands, beyond an automated weather station.
NASA keeps an eye on the islands, though, because of the volcano atop Heard Island's Big Ben occasionally fires up. Last October we reported things have started to look interesting on the island. NASA has now released the image below showing that the volcano's caldera appears to have filled with so much lava that some has since cascaded down Mawson Peak's flanks.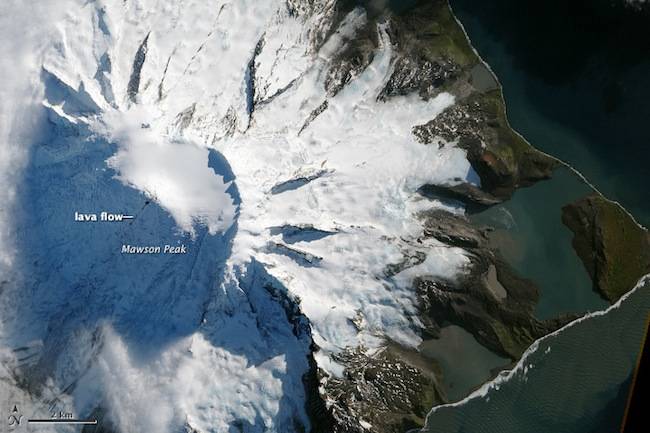 NASA's EO-1 satellite snapped the shot above on April 20th and the agency says that when compared to another image acquired on April 7th, it appears the lava flow is widening at the top.
Heard Island's remoteness and Mawson Peak's altitude – 9006 feet or 2745 metres – mean there's nothing to fear from the eruption. Even local populations of seals and birds probably aren't in peril, as few live near the Peak's summit. But Heard Island does experience "strong and persistent westerly winds ", according to its official website. We know events like the 1883 eruption of Krakatau influenced the world's climate. A big bang followed by a big blow could therefore add spice to some already-warm debates. ®
Similar topics
Broader topics