Quid-a-day nosh challenge hack forms foraging party
Can Mother Nature supplement meagre diet?
---
It's been a tough winter here in the mountains of central Spain, so Mother Nature isn't lending much of a hand as I attempt to sustain myself spending just £1 a day for nosh in the "Live Below the Line" challenge.
As many readers have pointed out, I should be able to venture forth into the countryside in search of free supplements to my diet of tea, egg sarnies, chickpea stew and rice, as served up yesterday for your vicarious dining pleasure.
Well, it was snowing on Monday, and the truly crap weather since the end of February has knocked back the start of spring proper a couple of weeks. Accordingly, it's lean pickings at the edible wild plants buffet table.
Nonetheless, following my second legume-based lunch yesterday, I assembled my mutt pack into a foraging party and ventured forth in search of something which might add a little spice to my diet.
Almost immediately, we came across some pamplina (Montia fontana) - a traditional local food also known as boruja, coruja, marusa or regajo: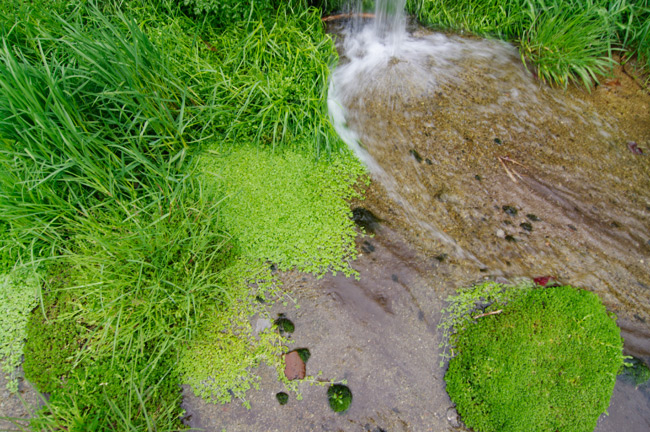 Pamplina (centre of pic): free salad and vitamin C
Pamplina - dubbed "water chickweed" or "blinks" in English - is commonly used hereabout in salads. Its slightly bitter taste becomes increasingly unpalatable as the plant comes into flower, but I caught it just in time.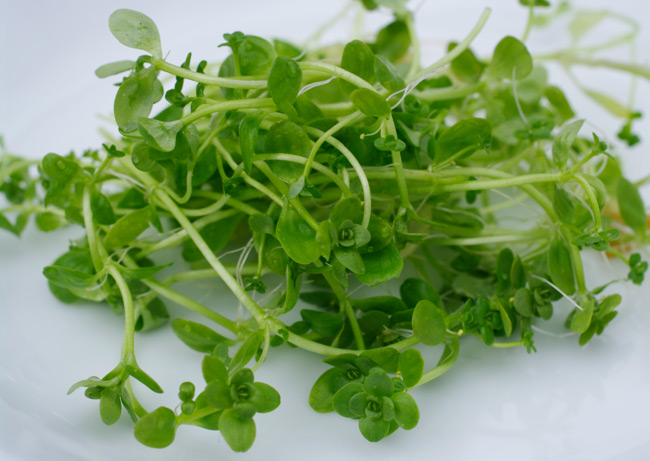 Just about to flower but still good to eat
So, with a bag of free salad added to the menu, it was off to track down another local fave: mushrooms. No sooner said than done, and here are a couple of field mushrooms (Agaricus campestris) quickly plucked from the chilly earth: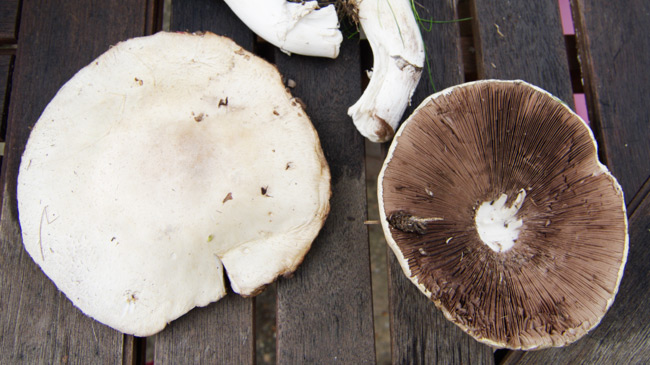 Good eating: Agaricus campestris
These make good eating, assuming you haven't actually picked Agaricus xanthodermus, ("yellow stainer") or Amanita virosa ("destroying angel") by mistake.
The former can give you a very nasty case of gutrot, while the latter will put a real downer on your day by dispatching you to the hereafter. I know a bit about mushrooms, but to be absolutely certain I wasn't making a fatal error, I took my bounty to expert Tito - he of Paper Aircraft Released Into Space (PARIS) fame.
Tito explained that Amanita virosa has white gills, so it's pretty easy to spot once it has spread its cap. He showed me a simple test for Agaricus xanthodermus: rubbing the skin of the cap with a toothpick or similar. If the flesh immediately turns vivid yellow, you've got a, well, yellow stainer.
Back at the base, then, I chopped up the mushrooms and added the bits to my boiling 200g rice ration, throwing in a dash of milk for good measure, to concoct an entirely plausible mushroom risotto-ish dinner: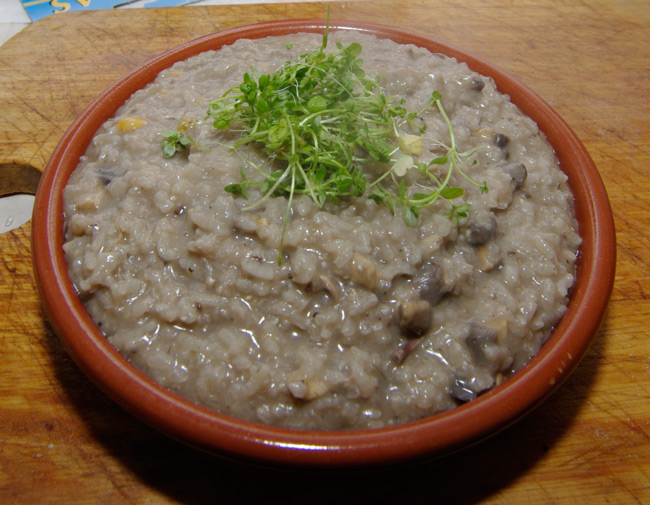 A topping of pamplina, and it's good to go
Tito reckons the first appearance of field mushrooms might suggest the imminent coming of some prized Boletus edulis, variously referred to around Europe as penny bun, porcino or cep. If I could find one of those it'd be a right result, although autumn is their normal season, and the woods around the village are not fertile boletus ground.
As you can see by the above enlightening insight into mushrooms, the quid-a-day diet hasn't yet dulled my senses, although I am accompanied by a chronic nagging hunger.
This is in part mitigated by reader generosity in supporting my chosen cause for the challenge: Malaria No More UK. Yesterday, I thundered past my fundraising goal of £500, and am now hoping I can top a grand by Friday.
If you fancy supporting me and this worthwhile cause, get yourself down to my fundraising page without delay, while I get the kettle on for the third of my daily allowance of six cuppas. ®