This article is more than 1 year old
Review: Panasonic Toughpad FZ-G1 WinPro 8 tablet
Fancy a shower with your fondleslab? Or booting it down the stairs?
Vid In the UK, Panasonic is not known as a high-street PC player - but the company's Tough range of products makes quite an impression in the world of business.
Out in the field you'll spot them in the hands of BT engineers and the like where the manufacturer's rugged laptops, and now tablets, survive the rigours of white-van man life.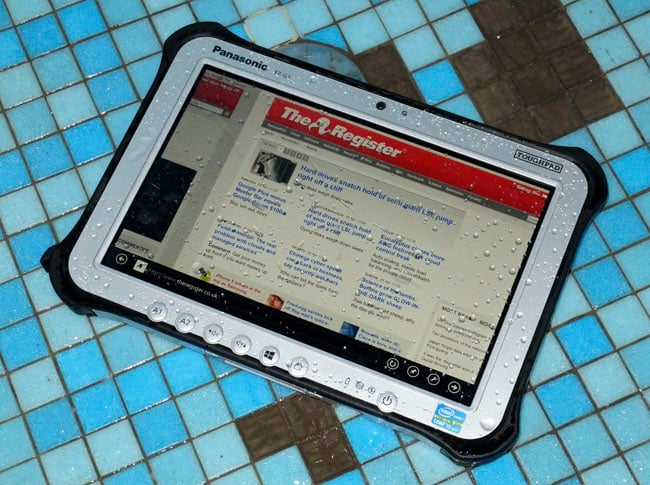 Panasonic's Toughpad FZ-G1 ... something for a rainy day?
The Toughbook range has been established for some time now; Windows 8 models were recently introduced getting a mixed reception from users. The swivel screen also allows for tablet style operation but it's a bit of a chunky and weighty arrangement. With the Toughpad, Panasonic delivers a 10.1in tablet that has the robustness this range is known for but without so much of the bulk.
Actually, there are 7in and 10.in Android Toughpads available but on test is the FZ-G1 Windows 8 Pro model featuring a 1.9GHz dual-core Intel Core i5-3437U CPU and relies on the Intel HD Graphics 4000 integrated GPU. There's 4GB of DDR3L RAM on board and a 128GB Toshiba THNSNF128MCS SSD – 8GB of RAM and 256GB SSD options exist too. The matt display is one of Panasonic's IPS alpha panels that delivers wider viewing angles and notches up a full HD resolution at 1920 x 1200-pixels. No surprise then that the FZ-G1 includes a stylus to help navigate menus and suchlike in Desktop mode.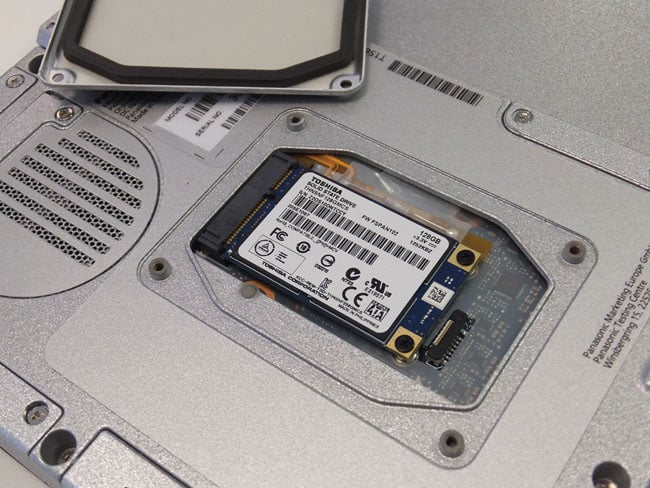 Toshiba SSD is kept under wraps
A glance at the FZ-G1 and you can see it's not your usual coffee shop fondleslab. It has dedicated function keys lined up along the bottom and the rubber around the front edges doesn't extend to the rear. That said, the oversized rubber corners also act as feet at the back, elevating the tablet so its fan grille and poxy rear speaker are unobstructed.
All in all, this protection together with a part alloy, part metallic plastic body and a toughened glass touchscreen delivers a MIL-STD-810G spec (120cm drops) and an IP65 rating (dirt and water resistance). By the looks of the tablet though, you'd expect something more impressive. A 4ft drop isn't that much – a slip from the hands of a standing user – and apparently IP65 is more akin to surviving a soaking in the rain, rather than a proper dunking water. Indeed, at a recent launch event for the Toughpad range, Panasonic was keen to stress that we don't immerse the test units... tempting though.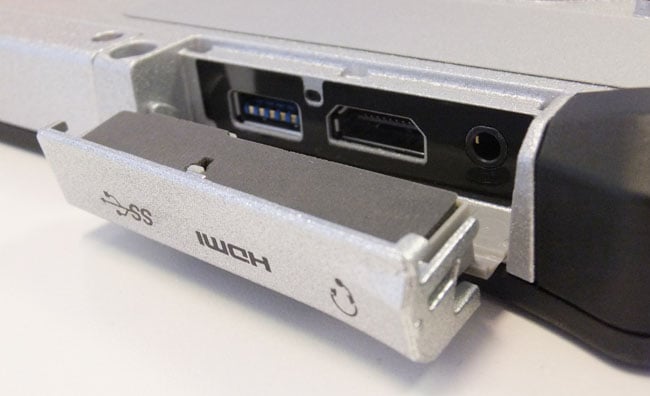 The ports cover fell open a couple of times in our drop tests
While cheaper ARM and Atom tablets can more or less get away with a bare minimum of additional connectivity, having a full-blown Intel chip inside does make you think it should be kitted out with interfacing aplenty to take full advantage of the device. The Panasonic Toughpad FZ-G1 features a mic/headphones combo jack socket, an HDMI output and a single USB 3.0 port all sealed up behind metal-effect plastic cover. The cover does pull clear of the ports, but as they are recessed, there's bound to be a time when a USB stick doesn't fit because of this.
Apart from the power input behind a rubber grommet on corner and a 24-pin port connector for the FZ-VEBG11U desktop cradle, that's pretty much the standard issue interfacing on the FZ-G1 except for one significant difference: the configuration port. As its name implies, this is where you specify your preferred interfacing option.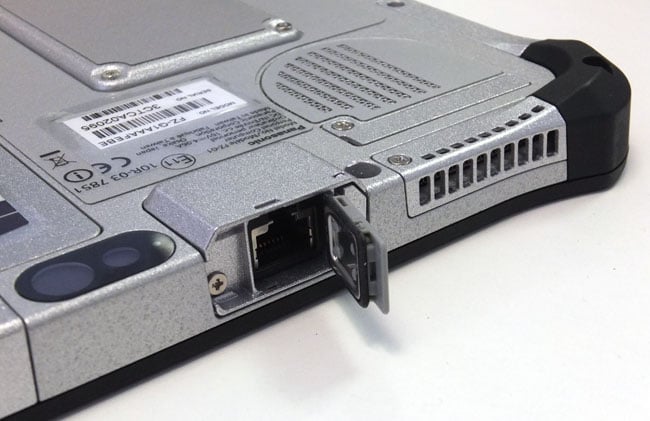 Ethernet configuration option port
The test unit came supplied with a Gigabit Ethernet port, but there are four other options: USB 2.0, microSD, GPS and True Serial – the latter being 16550A compatible. This swappable port feature is screwed in place along the top edge near to the webcam. Incidentally, apart from the front facing 1.3Mp camera, there's no rear snapper – Panasonic offers a 3Mp shooter with flash as an optional extra.