This article is more than 1 year old
Review: Panasonic Toughpad FZ-G1 WinPro 8 tablet
Fancy a shower with your fondleslab? Or booting it down the stairs?
Mobile working
Indeed, the list of extras piles up – you'd have thought a microSD slot would have been included – but then Panasonic would have needed to make slot covering for it. That said, there is a 3G mobile broadband version available, which has its own slot screwed down next to the battery pack and, as luck would have it, the review unit had this on-board too. As I type, the BBC iPlayer is smoothly churning out HD content over 3G, so I've no complaints there. However, I wasn't so convinced by the GPS side of things but this probably had more to do with testing on Bing Maps and the gMaps apps, both of which seemed to rely on Wi-Fi rather than GPS to deliver a position. Talking of Wi-Fi the Toughpad supports 2.4GHz and 5GHz bands and has Bluetooth 4 on board.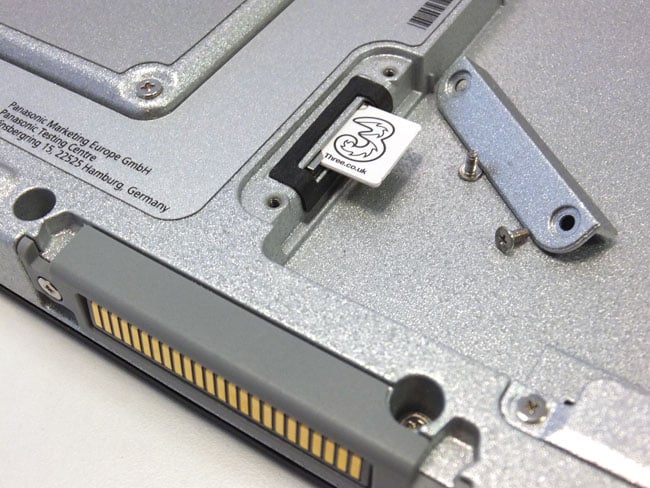 Full-size Sim card slot is tucked away behind a screwed panel, the dock connector is laid bare
In the hand, the Toughpad actually comes across as lighter than it looks, although it's not exactly unnoticeably at 1.1kg. Measuring up at 270 x 188 x 19mm, it's as thick as a basic laptop, and while not uncomfortable to hold, its industrial chic eventually takes its toll as the weight does become fatiguing. I wanted there to be some lugs on it so I could rig up a strap so it could be worn over the shoulder in between use. Panasonic will sell you a bag for this purpose which will only add more bulk, but additional protection too.
The screen's subdued reflectiveness pays dividends in use, but as soon as the lights go off on the device, the mess of fingerprints makes it appear distinctly grubby. It cleans up easily enough though. The display itself is bright, text is sharp and images look good too, however, its semi-matt sheen does seem to subdue the contrast slightly and blocks of colour have a slightly textured look to them. Whether this is due to some kind of coating or the toughened glass isn't apparent.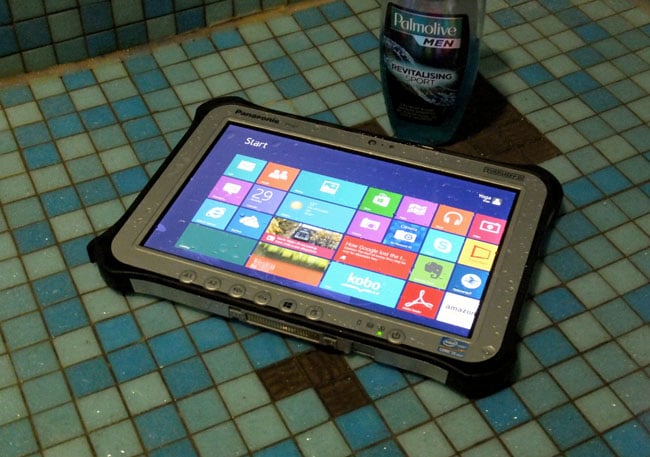 What could be more natural than having a fondleslab in the shower?
As for that toughened glass, whacking the screen on the corner of a table produced no ill-effects. It was a spur of the moment test performed here at Vulture Central by one of our ex-military staffers who takes a no-nonsense approach to such things. I'll admit I was surprised for it to survive without a mark on it. In all that excitement it was time to cool it off in the rain – simulated in the El Reg bog showers. The good news is, it still works. The bad news is, you can't do much with it when it's wet.
As the water droplets fell on the screen, the browser pages started to dance about and even zoom in. It is a touchscreen after all and this downpour was being mistaken for finger presses. Turn the shower off and it's just as bad as the droplets confuse any navigation attempts. The screen stayed put, unchanging until the water had been wiped off. A cursory inspection of the seals revealed they had done their job although there was some water in the battery bay. However, this wasn't a major worry as the terminals section has seals surrounding it and was kept dry.
I saved the four foot drop until last, just in case it landed badly or bounced into something unforgiving. The bad news is, I don't have some photos of some fractured Toughpad to post here; the good news being it passed the test – multiple drops from various angles. The only incident being the port cover popped open a couple of times. For me, the real test is when it flies off the roof of a cornering car having been left there by some absent-minded field technician desperate to move on before the traffic warden arrives.
Ah, that reminds me of the scribble pad aspect of this device. It has a capacitive pen with an assignable button on it that defaults to right click. It has proximity sensitivity so a tiny diamond cursor appears as you hover over the screen. This would be great if it wasn't so badly aligned.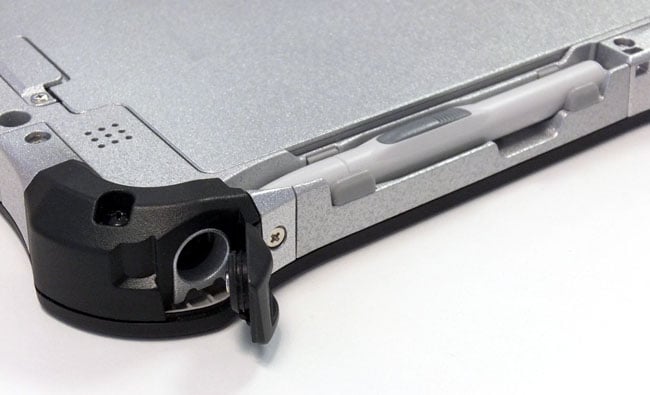 Power connector cover and captive stylus
I tried calibrating the pen numerous times and always found it wanting, especially when expanding items in the device manager. I'd find the cursor would appear landing on the item above the one I wanted and it's so counter-intuitive to click the next item down to get the one you want above it. While you might not experience this problem in less precise scenarios, the combination of hi-res screen in Desktop mode and a wavering pen can be problematic. That said, finger presses in Desktop mode often needed repeating and so I reached for the stylus to overcome this only to end up having to deal with the aforementioned alignment issues.