Review: Panasonic Toughpad FZ-G1 WinPro 8 tablet
Fancy a shower with your fondleslab? Or booting it down the stairs?
---
Power play
Panasonic includes a few utilities on the Toughpad, one of which is a handwriting utility that will simply capture what's written. There's a general dashboard app too, which consists of shortcuts to frequently used features and configuration options. Among these are various power related features including battery recalibration and the Power Plan EX extension. The latter provides a comprehensive range of tweaks with access to Intel display and graphics energy saving options, as well as Wi-Fi sleep settings, slow charging, and fan control.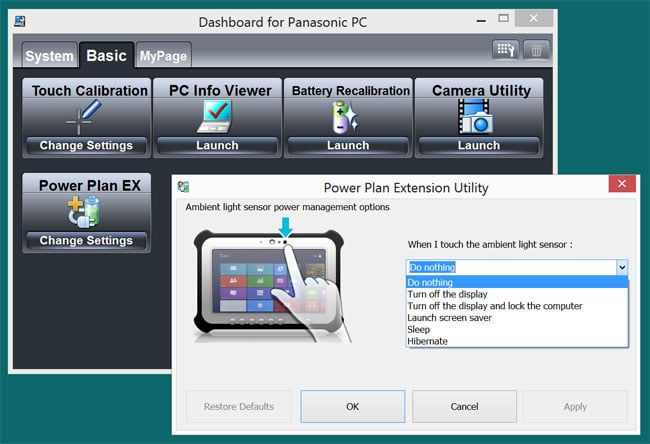 The ambient light sensor can be used to engage shortcuts
Regarding the fan, it chirps up from the off and it isn't noticeable in a typical working environment, yet spend any quiet time with the FZ-G1 and you'll want to swat the mosquito in the room. Lest we forget this the FZ-G1 Toughpad runs on a Core i5 CPU and has a snappy performance to match. It consistently boots to the login screen in 7 seconds and achieved a rating of 4622 with PCMark 7 and clocked up 4hrs 3mins with PowerMark – a figure you can usually double for real world use. In this respect, the battery really does endure and managing the quoted 8hrs using the default settings shouldn't be beyond reach.
If you need a longer run time, the standard 4400mAh six cell battery can be replaced with a bulbous nine cell beast that is claimed can last for up to 16hrs, which is probably wishful thinking, especially as Panasonic seems shy about stating the power rating for this battery pack. A final word on the battery, it snaps into place nicely enough, but has a lock too. If you forget about this when playing rough with the Toughpad, the battery is likely to fly out. How do I know this..? You guessed it.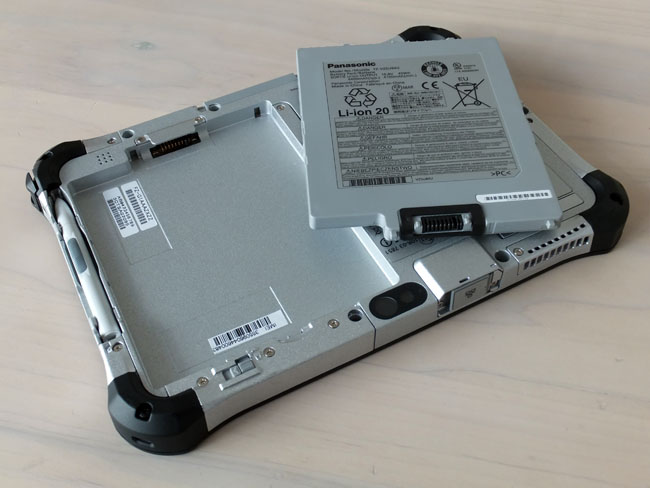 Lock and load: standard battery showing the seal around the terminals
I'd have liked a second USB port as trying to get Linux running on this proved difficult from a USB flash drive when a keyboard was needed to execute the boot options. I tried daisychaining a Mac keyboard using its hub to add the USB drive only to get a insufficient bus power message which seems a bit feeble. Using a CD drive didn't boot up Ubuntu Linux either despite UEFI tweaks to make it the primary drive. Instead, it began a recovery procedure. No doubt there's another check box to tick buried in configuration page somewhere that allows Linux to play nice, but it was certainly playing hard to get.
The Reg Verdict
The Panasonic Toughpad FZ-G1 is very much part of a complete field use ecosystem with specialist accessories including a vehicle dock from Gamber and Johnson that features an array of breakout ports. Indeed, given the Toughpad's robust credentials, you rather hope for more standard features – surely a microSD slot alongside the Sim card wouldn't have been too difficult to include?
This all plays into the BYOD (build your own device) approach which allows for very specific features to be added. If all you need is a tablet with moderate protection, a decent battery life and a few handy ports, then you might be better off looking at the HP Elitepad 900 with its smartjacket, assuming you can live with an Atom CPU. That said, the HP's stylus has yet to show up so there's no telling if it performs better than the wayward digitiser on the Toughpad.
As a one-off purchase though, the Panasonic Toughpad FZ-G1 could prove tough to justify given its price, but its target market will surely feel the benefit of volume discounts. If stylus use is important then it could prove challenging but as a rugged tablet, it'll survive a soaking and it is certainly robust just don't be fooled by that metallic finish, there's a fair bit of plastic here too. ®

Review: Panasonic Toughpad FZ-G1 WinPro 8 tablet
Rugged 1.9GHz Core i5 Windows 8 Pro tablet designed to withstand 4ft drops, water and grit featuring specialist bolt ons to suit field technicians ansd scientists.
Price:
£1900 (Wi-Fi only), £2076 (Wi-Fi + 3G) reviewed RRP