New NASA rover lands in frigid alien hell tomorrow
Welcome to Greenland, GROVER
---
NASA's newest rover, the Goddard Remotely Operated Vehicle for Exploration and Research (GROVER), tomorrow (May 3rd) starts operations in a frigid alien hell with a climate utterly inimical to human life: the ice sheets of Greenland.
GROVER follows familiar design specs: NASA describes it as "tank-like", an apt choice of words as it stands six feet tall, weighs 800 pounds and packs a fearsome energy weapon – ground-penetrating radar – it will use to probe the local environment. The rover's mission is also familiar: learn about the environment to enable future human habitation.
NASA hopes GROVER will beam back information about the state of Greenland's ice sheet, which melted rather a lot during the island's warmer-than-usual 2012 summer. Radar's a fine tool for that job and NASA has in the past used it aboard snowmobiles or by overflying the colossal island.
GROVER, it is hoped, will do the job more cheaply. Setting out from Summit Camp, a permanent research station found at 72°35'46.4"N 38°25'19.1"W but which moves around thanks to the movement of the ice on which it rests, GROVER will initially be controlled by WiFi during tests expected to last until June 8th. If it proves itself, the vehicle will be left to trundle around the frigid island at the stately speed of two kilometres an hour for as long as it solar power source allows, beaming back data by satellite as it goes. Remote operation should be possible, as should real-time analysis of data.
The team expects a good few weeks of autonomous roving, as the sun won't go down for weeks and craft's solar panels boast a cunning design that allows them to collect energy direct from Sol or from stray rays that bounce off the ice. GROVER is expected to collect more data than people riding snowmobiles and also to do it without emitting the pollutants such vehicles create.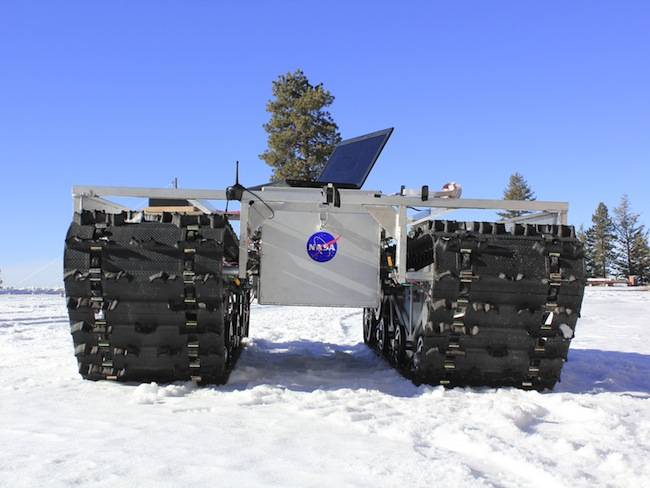 NASA's GROVER rover
Image Credit: Gabriel Trisca, Boise State University
The data GROVER collects will allow a better understanding of Greenland's ice sheet, which may come in handy if (for whatever reason) the planet's climate changes rapidly. ®