This article is more than 1 year old
Move over Radeon, GeForce – Intel has a new graphics brand: Iris
'Select' Haswell chips to have 'amazing' integrated oomph
Intel is getting increasingly serious about integrated-graphics performance, and to prove it they've done what any self-respecting marketeer would demand: they've rebranded their top-performing parts.
Meet "Intel Iris Graphics", slated to appear in the top-performing parts of Chipzilla's soon-to-be-released "Haswell" chippery.
Intel added Haswell to its roadmap way back at its 2008 Intel Developer Forum, promised at IDF 2011 that it would bring hefty power reductions, and at IDF 2012 provided deep details on its performance goals – including the fact that its integrated graphics would come in three basic flavors, dubbed GT1, GT2, and GT3.
The GT3 level, explained Intel graphics guru Tom Piazza at IDF 2012, will be distinguished from its less-powerful siblings by doubling much of the core's internal graphics goodness over that employed at the GT1 and GT2 levels.
The Iris brand will be applied to two of the three GT3 configurations that Intel revealed this Wednesday evening. The core on the 28-watt GT3-equipped, dual-core Haswell chip will be dubbed Intel Iris graphics 5100 and aimed at Ultrabooks (admittedly at a rather high thermal design power for those thin, battery-powered units), and sitting above it in the performance pile will be the Intel Iris Pro graphics 5200 in a quad-core chip with a TDP of 47W, aimed at heftier laptops and desktops without discrete graphics.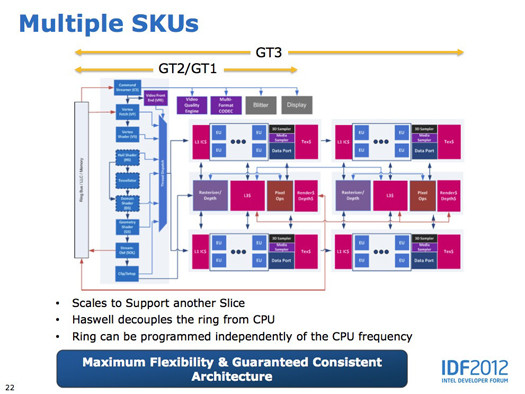 At IDF 2012, Intel revealed details of Haswell's three levels of integrated graphics (click to enlarge)
That latter core, known as GT3e in internal parlance – a designation that Intel instructs "should not be used in marketing materials for end users" – will have its performance boosted by having its own 128MB "Integrated on-package EDRAM Memory," according to Chipzilla, meaning that the embedded DRAM won't be on the Haswell die itself, but sitting next to it in the Haswell-part's package, presumably linked over a high-speed interconnect.
In a blog post, Intel spokesman Dan Snyder ticked off a list of other capabilities of the Iris line, including "features like Intel Quick Sync Video technology, MJPEG acceleration, 4K UltraHD display resolution, collage mode display, OpenCL [1.2], DX11.1, OpenGL4.1 and DX extensions."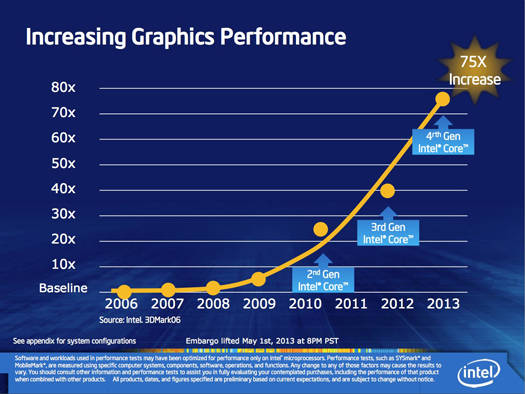 Intel claims its overall integrated-graphics performance has come a long way since 2006 (click to enlarge)
Haswell chips with less graphics oomph won't be graced with the Iris brand. A 15W GT3 part – which, at that TDP, we can assume will run at a slower clock speed than the Intel Iris graphics 5100 – will be dubbed Intel HD graphics 5000. The GT2 parts will receive Intel HD graphics 4600, 4400, and 4200 designations in PCs, and P4700 and P4600 when aimed at servers and workstations. The poor li'l GT1 doesn't even get its own number – it'll be known simply as Intel HD graphics. Period.
Will Iris provide levels of performance that will deserve its own branding? Intel certainly thinks so, and has provided a few charts that compare the new Haswell – aka 4th Generation Core – processors with the graphics performance of its 3rd Generation Core chips, aka "Ivy Bridge":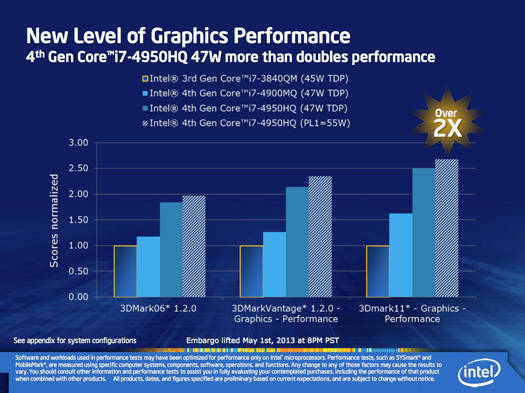 (click to enlarge)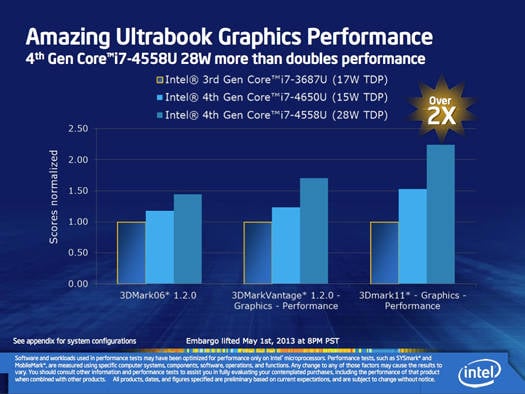 (click to enlarge)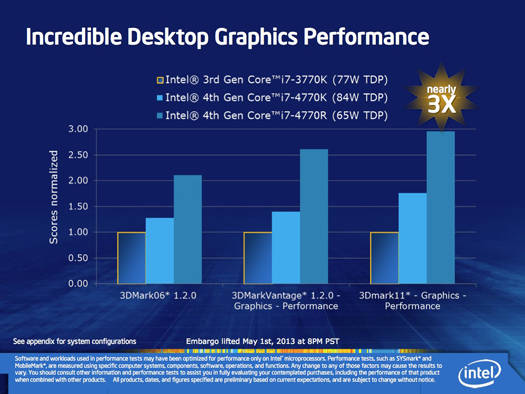 (click to enlarge)
These performance improvements, of course, are in comparison to Intel's existing Intel HD graphics – hardly the snappiest graphics cores, although the HD 4000 was a notable improvement over its predecessors.
We'll have to wait until Iris and Iris Pro Haswell chips are suitably benchmarked before we'll find out whether the name Iris can be spoken in the same breath as AMD's Radeon and Nvidia's GeForce – and whether AMD and Nvidia sales teams will have a tougher time moving their discrete parts into laptops.
One thing is certain, however: Intel is serious about improving integrated graphics performance – and they're going to continue their efforts in this vein. As Snyder said in his blog post, "We ... think you'll be impressed with Intel Iris graphics solutions later this year. And, hint hint, we aren't stopping there."
Piazza sounded the same theme at IDF 2012. Harkening back to IDF 2008, when Intel said that its goal was to achieve a ten-fold improvement by 2010 – a goal known as "10X by 10" – Piazza said that goal had been achieved.
"I remember being here a few years ago with the 10X by 10 in Sandy Bridge," he said in 2012, "and I remember saying 'This is just the beginning'. I'll sit here and tell you today that Haswell is not the end. We're going to keep on going from here." ®