This article is more than 1 year old
Fraudster gets ten years after selling fake 'ionic charge' bomb detectors
Buyers ignored warnings on cardboard-powered dousing rods
A British businessman who netted an estimated £60m selling cheap US novelty dowsing rods as sophisticated bomb and drug sniffing devices for up to $30,000 apiece has been jailed for 10 years.
Crown prosecutors claim James McCormick, 57, used a combination of salesmanship and bribery to sell a range of Advanced Detection Equipment (ADE) devices to security forces around the world. The court heard they were modeled on £15 toy golf ball detectors sold in the US as Golfinder, and were utterly useless at sniffing out explosives.
"The device was useless, the profit outrageous and your culpability as a fraudster has to be placed in the highest category," said Mr. Justice Hone, the Guardian reports, before handing down the maximum possible sentence of a decade behind bars. "Soldiers, police forces, border customs officers, hotel security staff and many others trusted their lives to the overpriced devices sold by you."
The ADE devices used plastic-handled twin metal wires which McCormick claimed would detect "all known drug and explosive based substances" by swinging towards them. Detection could be programmed for different materials using cardboard strips that used "electrostatic matching of the ionic charge and structure of the substance" and the whole unit was said to be charged by the user's energy, so no batteries were required.
The devices were instantly ruled as fakes by the scientific community, with noted debunker James Randi offering McCormick $1m in 2008 if he could prove they worked in scientific tests.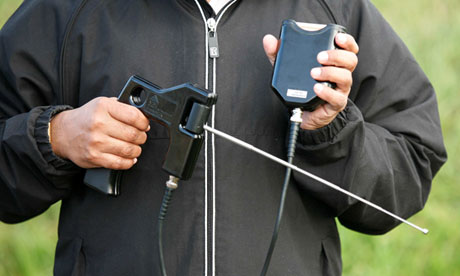 McCormick's detectors didn't even waste money on batteries or a processor (credit: SWNS.com)
"It's a useless quack device which cannot perform any other function than separating naive persons from their money. It's a fake, a scam, a swindle, and a blatant fraud," Randi said. McCormick never got back to him.
Presumably he was too busy selling the things. The biggest customer was the Iraqi government, which spent over £85m on thousands of the devices from 2008 to 2010. McCormick, who still insists he hasn't had customer complaints about the efficacy of the devices, also claimed in court to have sold them to the military in Kenya, Egypt, the prison service in Hong Kong, and border control in Thailand.
The court heard that McCormick was the sole shareholder in the enterprise and spent his proceeds on a lavish lifestyle, including a £3.5m townhouse with a basement swimming pool in the posh UK city of Bath, holiday homes in Florida and Cyprus, and a £630,000 motorboat he christened "Aesthete".
"Your profits were obscene, funding grand houses, a greedy, extravagant lifestyle and even a yacht. You have neither insight, shame or any sense of remorse," the sentencing judge pronounced.
"Your fraudulent conduct in selling so many useless devices for simply enormous profit promoted a false sense of security and in all probability materially contributed to causing death and injury to innocent individuals."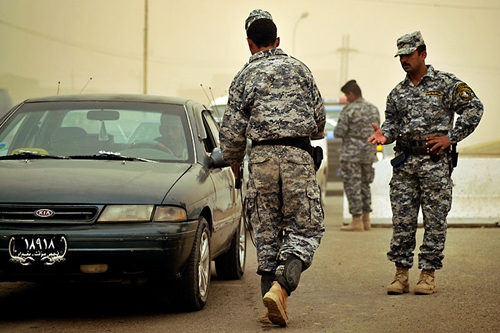 Iraqi soldiers waste their time (and risk their lives) with the ADE 651
Investigations into McCormick's activities began after the ADE 651 detectors he sold started being deployed in Iraq. Both UK and US forces raised serious concerns about their use by the Iraqi army and asked McCormick's local British bobbies to take a look at the case.
Detective Superintendent Nigel Rock from the Avon and Somerset police told BBC Radio 4's PM that the police quickly found scientists who attested that the devices didn't work, and McCormick declined to be interviewed until charged. But the investigation was hampered by difficulties in getting information from overseas.
"I think, deliberately, McCormick targeted troubled countries, countries that were trying to recover from conflict, and perhaps hadn't got an established law enforcement and government structure and I think he exploited that," Rock said.
"He developed a sales technique, and perhaps as importantly a demonstration technique, that unfortunately convinced some people in senior positions that the device worked," he said. "In the culture of some of these countries if a senior operator says this device works then clearly some of the staff believe that because their boss has told them."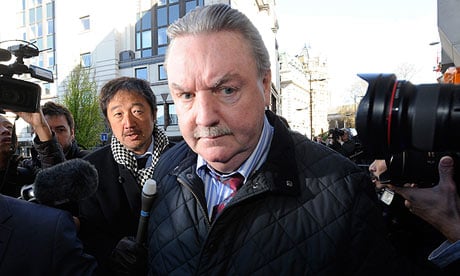 Convicted fraudster McCormick arrives for sentencing (credit: Facundo Arrizabalaga/EPA)
As late as 2010, General Jihad al-Jabiri, head of the Iraqi Interior ministry's counter-explosives department, told the BBC that his department had tested the devices and was satisfied they worked. General al-Jabiri and several other officials have since been arrested on corruption charges related to their dealings with McCormick.
The UK government blocked the export of the devices in 2010, and McCormick was arrested shortly afterwards. He continues to protest his innocence and his defense council protested that "any amount of protective devices at checkpoints in Baghdad couldn't protect the people of Iraq from those who conduct the insurgency there."
McCormick, a former Merseyside policeman with no scientific training, is now having his assets investigated to see what can be recovered and repaid to creditors, including customers and those harmed when the devices failed to work.
"He destroyed Iraqi lives," said Nidhal Ailshbib, an Iraqi activist protesting outside London's Old Bailey courthouse. "Thousands of Iraqi people are dead and handicapped." ®