This article is more than 1 year old
Seagate's bottom line smacked as users bin desktops for tablets
Drive-maker looks to cloud, 5mm slab product for succour
Hard drive-maker Seagate's third quarter profits slipped by a whopping 64 per cent year-on-year as the company's bottom line was hit by users deserting desktops for tablets.
Revenues for its third fiscal 2013 quarter were $3.53bn, 20 per cent down on an annual basis when revenues were pumped up through Thai flood drive shortages driving up prices, and 4 per cent less on a sequential basis. Seagate has now had two consecutive quarters of revenue falls. Profits (net income) were $416m compared to $492m in the previous quarter and a massive $1.1bn a year ago. Those flood waters have well and truly receded.
Seagate built 55.7 million drives (WD: 60.2 million), 47 exabytes of total capacity, and their average capacity was 842GB (WD: 810GB). The average capacity was 823GB in the three months prior and 681GB a year ago. What a jump. We understand high-capacity drives are increasingly being shipped direct to hyper-scale data centres and cloud environments. Seagate's chief sales and marketing officer, Rocky Pimentel, confirmed this in the earnings call:
Architectural features that the cloud service providers are pursuing are architectures that allow them to buy drives directly and put their own software on top of that as opposed to buying that software stack from someone else. So we believe that's the beginning of a trend that's probably going to sustain for many, many years.
The clear implication is that storage array vendors, with their own software stacks, will be selling fewer arrays to cloud service providers. If the trend is sustained then Seagate could sell fewer drives to storage array makers than it does to cloud storage providers.
Seagate CEO, chairman and president Steve Luczo said: "The continued advancement of cloud, mobile and open source computing are trends that are shifting data volumes toward personal and corporate cloud environments," and, by implication, away from enterprises.
Stifel analyst Aaron Rakers has totted up drive shipments to enterprises by the HDD triumvirate of Seagate, Tosh and WD and calculates enterprise drive shipments were 15.9 million in the first calendar 2013 quarter - a 7 per cent rise sequentially. He says such shipments were:
Q1 2013 - 15.9 million
Q4 2012 - 15.0 million
Q3 2012 - 13.2 million
Q2 2012 - 17.8 million
This lack of a clear trend makes it hard to understand whats going on although Luczo thinks enterprise sales are trending down relative to personal and cloud use of drives. In the earnings call he said: "The HDD industry continues evidence a lack of consistent visibility from our customers across most of our markets. As a result, we continue to plan cautiously."
He did say that the growth in capacity demand was more than two faster than areal density growth, meaning more drives and more heads and platters per drive will be needed.
It is clear the desktop PC sales are down and desktop HDD sales are following them south. Seagate is pinning its hopes for personal system drive unit growth on thin hybrid flash/disk drives with a Laptop Thin 7mm product being adopted in notebooks throughout the second half of this year and single-platter 5mm product following later this year which will also fit in tablet systems. WD has just announced such a drive.
Luczo said: We believe that with the number of connected people, availability of rich content and increasing bandwidth, mass storage will continue to expand across a variety of devices in the PC plus environment."
Seagate is also developing a 2TB desktop hybrid drive offering faster performance, which should bolster its sales into that market. Desktop demand while trending down in units is trending up in terms of capacity and Seagate sees more platters and heads in desktop drives in the future. Luczo said: "We have additional performance-based and high-capacity client products on our roadmap for this year."
The branded (consumer and retail) products are growing well, with Luczo commenting: "[Our] personal files, wireless access and SSD performance-based products are catalyst for continued growth and our acquisition of LaCie is proving to be a successful investment for our consumer and small business technology offerings."
He mentioned the Virident PCIe flash deal: "We will continue to provide a portfolio of enterprise products that meet the needs of the cloud environment including hard disk drives, solid state drives, hybrid drives and a complete line of flash-based PCI solutions through our OEM and distribution partners through our strategic investments."
Seagate is clawing back WD's lead in the quarterly revenue stakes, witness the chart: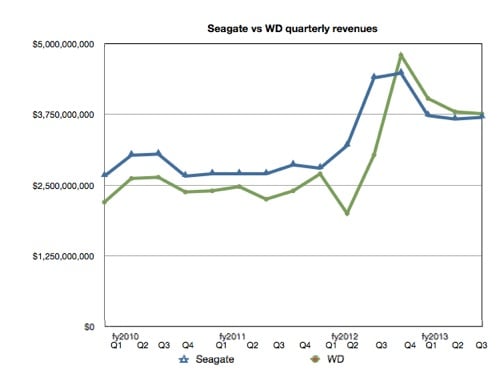 It is feasible that Seagate could regain the number 1 HDD revenue position, which should please Luczo and piss off Stephen Milligan, WD's CEO.
Seagate expects next quarter's revenues to be down again, $3.3bn - $3.45bn, and Luczo said: "Looking ahead, our top priorities are focused on the efficiency of our operations, extending our leadership in storage technology innovation and returning value to shareholders." ®