This article is more than 1 year old
SMART brings out 2.5-in, 2 terabyte block-o-Flash to rival sTec
You can't smoke enterprise SSD, but get your pipe out
SMART Storage has joined sTec in bringing out a 2TB capacity enterprise SSD using 19nm NAND. But SMART's goes faster, it says.
It's an extension of its 2.5in Optimus SSD line, called the Optimus Echo. Unlike the Optimus Ultra and Ultra Plus SSDs which use Toshiba 24nm MLD (2-bit) NAND the Echo uses smaller cells built using 19nm NAND, presumably from Toshiba still.
The largest Optimus Ultra goes up to 1.2TB but the Echo runs from 200GB all the way to 2TB capacity. Its random IOPS performance is 100,000/45,000 for reads and writes respectively and its sequential performance is 500MB/sec for both reads and writes. The thing's endurance is 10 full drive writes a day for five years, which contrasts with the Ultra's 25 and Ultra Plus; 50 full drive writes/day.
It has a 6gig SAS interface like the other Ultras, plus AES encryption.
SMART has already introduced two CloudSpeed SSDs using 19nm NAND, both with 6gig SATA interfaces. Competitor sTec has its s840 SSD with the same 200GB - 2TB capacity range and 6gig SAS interface. It performs less well than the Echo, with 75,000/11,000 random read/write IOPS and 500/300MB/sec sequential read/write bandwidth.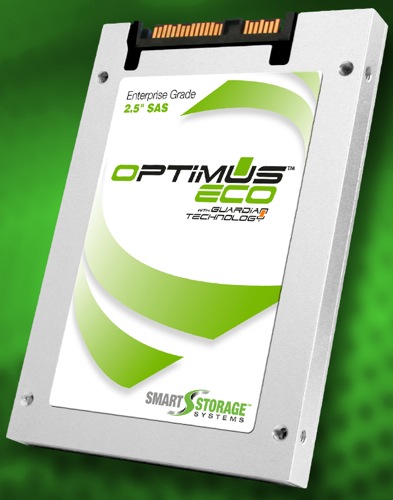 Toshiba itself, as far as we know, doesn't have SAS interface 19nm SSDs - though it does have SATA interface ones. Gentleman's agreement, maybe?
SMART says the product will bring about "a dramatic reduction in storage total cost of ownership (TCO)" and it will be generally available in June. OEM pricing for the drive starts at a dollar under $4,000. ®