EMC to reveal identity of Bourne-based storage platform
Is it a bird? Is it a plane? No, it's...
---
EMC is set to announce a software-defined storage product known as a Sea of Storage (SOS) as a new product category, alongside its Centera and Atmos object storage-based systems.
Vulture Central's storage desk has deduced this from tips, rumours and rumblings around the storage jungle, and we're told a mid-May announcement date has been decided upon.
What do we know?
EMC President and COO David Goulden talked about Cold Core storage, a capacity-optimised storage pool, at an analyst conference in March this year.
Also, EMC has talked about its Bourne Project, an architecture for storage, networking and servers that separates the control (management) plane from the data plane.
Thus OpenFlow is the control plane for networking and runs on commodity hardware. And this mysterious new system (probably named V-something-in-caps, a la VMAX and VNX … but read on) will be the storage control plane and run on commodity hardware. The storage data plane stores persistent data in appropriate places, such as arrays.
The Bourne data plane will include both third-party and commodity storage, which are diagrammed as being separate from VMAX, VNX and Isilon arrays. Block, file and object access constitute the data plane.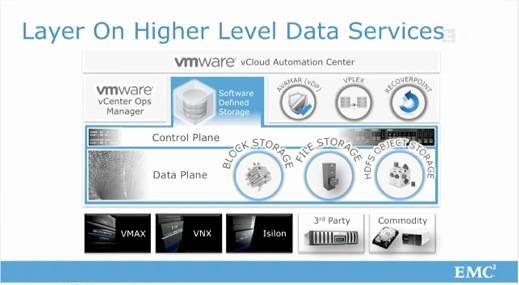 Control and data planes
HDFS object storage will use both commodity compute and commodity storage and boasts the following features:
Native HDFS and Amazon S3 API access
Built for service providers and enterprise-ready
Globally-distributed architecture
Self-provisioning and managing
Goulden presented EMC's basic storage positioning space to the analysts: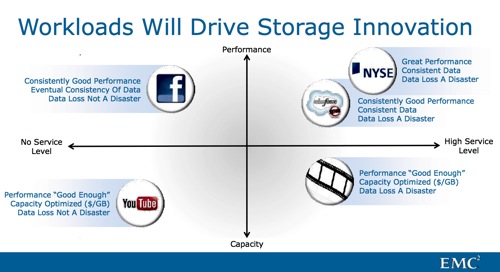 EMC's storage positioning space
He populated this with some products; note that of Atmos: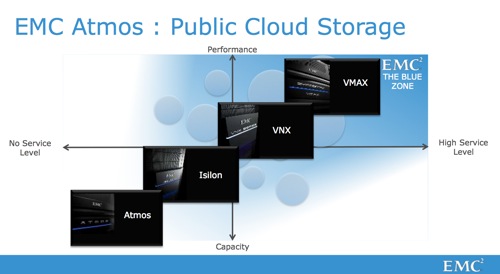 Atmos positioning, right down the bottom
El Reg's thesis is that EMC is going to populate the lower-right quadrant of this chart (known as the green zone) with this new, HDFS-based object storage platform; a Sea of Storage (SOS) product which will feature very high scale-out capability as well as high data integrity.
In support we'd argue that EMC sees software-defined storage as a separate storage market. Within its Emerging Storage Products category Goulden listed Isilon, Xtrem flash family, Atmos, VPLEX and RecoverPoint and software-defined storage - where EMC currently does not have a product. So why list it? Obivously, because a product is on its way.
- EMC's official blogger Chuck Hollis said "One of the bigger themes at EMC World this year will be software-defined storage: what is it, why does it matter, and what EMC is doing about it."
We suggest that EMC is building an HDFS object storage platform, the SOS product, for service providers that runs on commodity hardware and delivers a relatively high service level - but not performance level.
We note that EMC also has a VSET trademark it's not currently using. Watch this space. ®