37,000-machine study finds most reliable Windows PC is a Mac
Three months of laptop performance analysis puts Apple on top
---
A MacBook Pro is the most reliable PC on which to run Windows, according to research from PC-monitoring-as-a-service outfit Soluto.
Soluto users install an agent on their PCs. That piece of software keeps an eye on the PC and sends information to Soluto, which then alerts sysadmins about potential problems so they can act before things go pear-shaped.
The company says it holds data on "millions" of machines, and to produce its finding that Macs are the most reliable chose a sample of 150,000 laptops running its agent. That group was whittled down to 37,000 by insisting on machines that are still on sale, had windows installed in the preceding twelve months and have a decent sample size. The company then analysed that population's performance from January 1st, 2013, to April 1st of the same year. Over that time the company says it recorded 224,144 crashes, 250,791 non-responsive events (in which an app hangs for five seconds or longer) and 84,251 blue screen of death incidents. Analysis also considered the number of processes running and boot time, to produce a score for each machine. A lower score is better, and here are the results.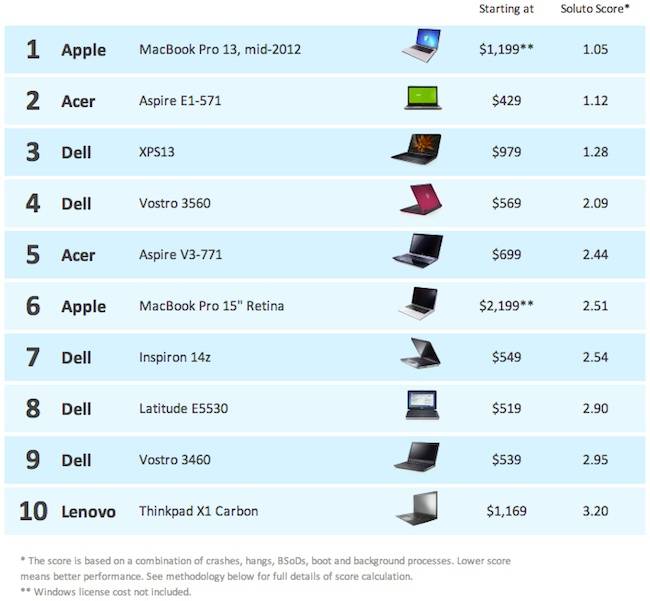 The mid-2012 MacBook Pro recorded just 0.88 crashes a week and 1.06 hangs over the same period of time. Blue Screens of Death occurred at the tiny rate of .01 a week and an average of 60 processes run on the fruity 'puters. The tenth-ranked Lenovo Thinkpad X1 Carbon crashed 1.69 times a week, hung 1.38 times every seven days, experienced 0.09 BSoDs and had an average of 85 RAM-chewing processes in operation.
At this point statistically-sophisticated Reg readers will find themselves wondering how big the sample of MacBook Pros was compared to the other machines in the top ten. Sadly Soluto is silent on that matter, which throws the study into a little doubt given it's hard to imagine a majority of Macs run Windows for a majority of the time.
Soluto is, to be fair, aware that Macs scored well because "... every Windows installation on it is clean. With PC manufacturers loading so much crapware on new laptops, this is a bit of an unfair competition." The company also points out that Windows installs on Macs aren't straightforward and that Windows-on-Mac experience suffers from poor drivers and the lack of a Windows button on the keyboard.
But the company also feels "... PC makers should look at this data and aspire to ship PCs that perform just as well as a cleanly installed MacBook Pro."
You can read the full study here. ®