Dept o' Labor says US created more jobs than it thought this spring
Unemployment rate hits four-year low, thanks in part to the IT dept
---
The US economy has been humming along a little more strongly than the Department of Labor originally thought over the past few months – US companies added a lot more workers than expected in February and March, and did better than expected in the shiny new report for April, too.
The first Friday of every month is when the Bureau of Labor Statistics announces its monthly jobs report, and it's also when Uncle Sam gets to revise the prior month's job creation – or destruction – data. As it turns out, things are a bit better than Sam previously reported.
According to this Friday's jobs report (PDF), the US economy added 165,000 net new workers in April, more than the 148,000 that economists surveyed by the Wall Street Journalhad been forecasting.
That job growth is coming even though the sequester and its related budget cuts are slicing employment by the Federal government, and rippling down to state and local governments and companies that are dependent directly or indirectly on Uncle Sam's deep pockets and generosity.
Or, more precisely, China's deep pockets.
Many furloughs that were expected in Federal agencies have not hit yet, and it is unclear what Congress and the White House will do to try to prevent them from happening.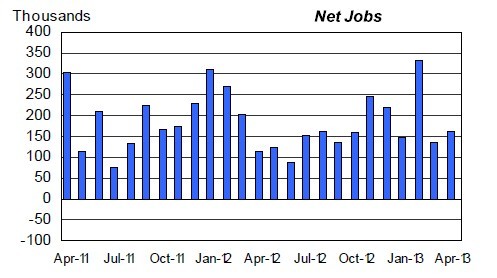 Non-agricultural job creation was better than expected in February, March, and April
The BLS went back and did its math again for February, and now says that the US economy added 332,000 net new jobs that month, up significantly from the 268,000 it had estimated, and the best job creation numbers since November 2005 if you don't count the Census bump that the first Obama Administration enjoyed in 2010. March was also revised upwards, to 138,000, besting the original 88,000 estimate that jarred Wall Street a month ago.
That said, April's job creation is right about average over the course of the recovery that has been underway for the past 36 months in the wake of the Great Recession, and the number of new jobs created is still not sufficient to keep up with the number of new workers that an expanding US population requires.
Economists generally believe that the US economy needs to create at least 200,000 jobs per month to give young people jobs when they leave school. The good news, as far as any presidential administration is concerned, is that the young folks who cannot find a job out of school and who stop looking are not counted as unemployed – they're merely unpersons. Just like anyone else who can't find a job and is no longer pounding the pavement.
The unemployment rate does not come from surveys of employers (which is called the establishment data by the BLS), but from surveys of American homes (and thus called the household data) to see who has work, who is looking for work, and who has stopped.
The unemployment rate dropped by a tenth of a point in April, down to 7.5 per cent. That drop is significant because Federal Reserve chairman Ben Bernanke has said he will stop pumping liquidity into the US economy once the unemployment rate gets down to 6.5 per cent – and stays there.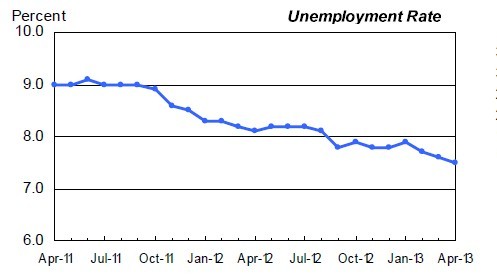 The unemployment rate has downticked by a tenth of a point in April to 7.5 per cent
If the sequester and resulting furloughs of Federal government workers can be avoided, the US economy is on track to hit that 6.5 per cent unemployment rate, which perhaps we should get used to as the new structural rate of unemployment that is two points higher than before the Great Recession started at the end of 2007, sometime around June 2014.
Make sure you get your mortgage or refinancing done before then, because money is sure to get more expensive once Bernanke turns off the liquidity tap.
If the sequester slows down job creation, it will take longer to get down to that 6.5 per cent unemployment rate that Bernanke is shooting for. Ironically, that will make cheap money last longer – if you can get a bank to lend you any of it.
We apparently all need a good drink and someone else to do the cooking here in the States, because employment and food and drinking establishments rose by 38,000 in April, and have averaged 25,000 per month over the past year. Companies engaged in the professional and business services added 73,000 jobs last month and have put 587,000 people on the payrolls in the past year. Retailers added 29,000 jobs in April, and healthcare companies added 19,000. Construction and manufacturing firms held more or less flat.
The IT proxy
The BLS doesn't track employment by job every month, so El Reg tries to back into what might be going on employment-wise in the IT sector by extracting bits of the monthly BLS report where there is a correlation with IT suppliers of various kinds.
Within the manufacturing sector, computer and electronic products makers shed 3,400 workers to 1.08 million collective employees. That's not good news, but within this broad group computer and peripheral equipment makers added 800 workers to a pool of 160,200. Communications equipment makers cut 500 people, to 107,300 workers, and semiconductor and electronic component makers gave pink slips to 300 workers, leaving 379,000 still on the payroll.
In the very broad information sector tracked by the BLS, telecom companies shed 600 workers, down to a pool of 855,400 people, but data processing and hosting companies added 600 workers and now have 251,200 people working for them as of the end of April.
In the services sector, companies that are engaged in computer systems design and related services added 7,600 people, and the pool is above 1.67 million workers. Management and technical consulting services firms, which often have IT aspects to their work, put 10,400 net new workers on the payroll and now employ 1.17 million people in the States. ®
Similar topics
Narrower topics