This article is more than 1 year old
Plans for fully 3D-printed gun go online next week
The Liberator pistol causes political panic
Defense Distributed, the pending non-profit that plans to make 3D-printed weaponry available for anyone with such a printer, will release the blueprints for a fully-working plastic firearm next week.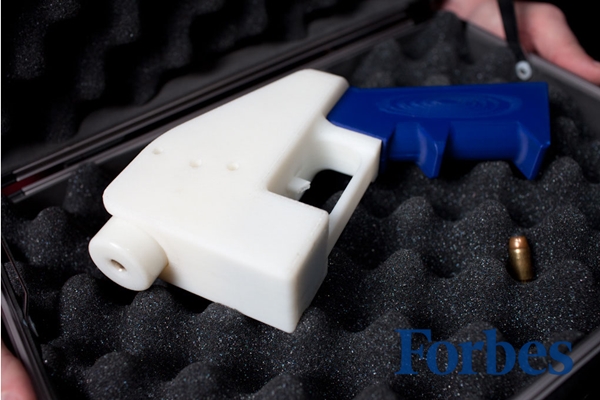 Here at last – your own printed pistol
The handgun, seen by Forbes, uses 16 printed parts that are clipped together and can be fitted with interchangeable barrels to fire different-caliber rounds. The only non-printed part needed to fire is a simple nail, which acts as the firing pin.
Final testing for the firearm is still ongoing by the group's founder Cody Wilson, who said that the plans should be online next week. The Liberator is printed from ABS plastic using a Dimension SST printer from Stratasys – although that company has already refused Defense Distributed the use of one of its printers.
"Everyone talks about the 3D printing revolution," Wilson said. "Well, what did you think would happen when everyone has the means of production? I'm interested to see what the potential for this tool really is. Can it print a gun?"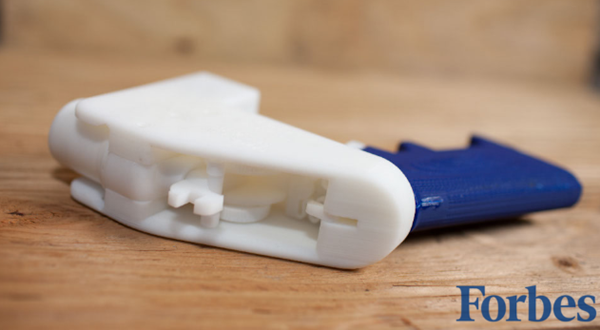 Not the most deadly weapon available in the US
Wilson is a legally certified firearms manufacturer after getting clearance in March, and in order to make the Liberator legal the group has added a six-ounce chunk of steel so that it can be picked up by metal detectors – a requirement for weaponry in the US under the 1988 Undetectable Firearms Act.
But if the plans do go public, there's going to be nothing in the design that makes the metal addition crucial, so potentially there could be people walking around with firearms that can get through airport scanners undetected. With its ultra-short barrel, the Liberator looks about as accurate as a Fox News daytime TV presenter, but politicians are already worried.
"Security checkpoints, background checks, and gun regulations will do little good if criminals can print plastic firearms at home and bring those firearms through metal detectors with no one the wiser," said Congressman Steve Israel (D-NY) in a statement.
"When I started talking about the issue of plastic firearms months ago," Israel said, "I was told the idea of a plastic gun is science-fiction. Now that this technology appears to be upon us, we need to act now to extend the ban on plastic firearms."
Meanwhile, American consumers could be the able to build their own plastic armory a lot more easily after Staples announced it will be the first big retailer to stock a 3D printer for consumers. The Cube 3D Printer from 3D Systems costs $1,300 and its printing plastic cartridges (which are available in 12 colors) cost $50 apiece. ®