Adobe kills Creative Suite – all future features online only
Demos hardware magic wand and Project Napoleon
Adobe had been expected to demo Creative Suite 7 at its MAX conference down in smoky Los Angeles on Monday, but instead announced there'll be no more versions of its boxed software and that the Creative Suite brand will cease to exist. All CS apps updates will only be added to its Creative Cloud suite, and Adobe showed off some new tools to tempt its software stick-in-the-muds online.
"We believe that we're now collectively hitting a tipping point where the web is now ready for a generation of tools and services that help build the future of HTML5, CSS, and JavaScript web," said David Wadhwani, general manager of Adobe's digital media business unit, at the MAX keynote.
The current system of duplicating changes made in the Creative Suite and Creative Cloud products was wasteful and unproductive, he explained, and while existing boxed-software owners will still be supported, they won't be getting any more upgrades from Adobe.
The dropping of boxed software wasn't unexpected, as El Reg warned in March – but the speed of the shift will take some by surprise. Creative Cloud was launched barely a year ago, and while its growth has been impressive it still has only half a million paying users. The move to cloud runs the risk of alienating users who've been with the company for a long time and don't want or need a cloud service.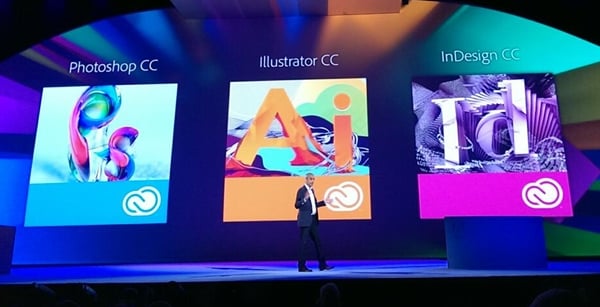 Cloud apps to rule them all
To tempt them, Adobe is offering "hundreds" of improvement to its Creative Cloud applications, with more introduced on a weekly basis by the company beginning June 17. Subscribers to Creative Cloud get 20GB of free online storage, and access to applications on any internet-connected device capable of running them.
This comes at a cost of $29.99 per month for a single application or $49.99 for the full Creative Suite Creative Cloud bundle. Wadhwani said that enterprise, government, and education customers would get special deals, as will registered owners of Creative Suite 6, and that Adobe will offer a range of short-term promotions to encourage subscriptions.
Cloud-only improvements for Photoshop users include a new tool to eliminate blurring from shaky-handed camera operators, an "Intelligent Unsampling" system to turn low-res images into higher–res versions, and a claimed 100x faster response time for painting 3D objects and textures. Illustrator is getting a tweak with the addition of bitmap brushes and a Touch Type Tool, and AfterEffects users also get new goodies.
Adobe is also going to roll out new social and management tools with the Creative Cloud system. Group working, messaging, and social networking from acquisition Behance are all going to be included in the cloud package. But Wadhwani also showed off three software and hardware research project to woo publishers and gadget geeks to the cloud.
Adobe's Project Context aims to eliminate an old publishing tradition – the layout board. While magazine production is now almost totally digital, many dead-tree editorial production offices still print out pages and pin them up to build the final layout. Wadhwani showed off a Context virtual layout room so teams can do this digitally via Adobe's cloud.
Meanwhile, for mobile users Adobe is getting into the hardware business with a new wireless digital pen with the understated name Project Mighty and a layout tool dubbed Project Napoleon – so called because it's a very small ruler*. Michael Gough, Adobe's VP of product experience, said that these two devices completely eliminate the need to sketch out ideas on a piece of paper.
Project Mighty is a so-called "smart stylus" with a pressure-sensitive tip for drawing, and a button to access application menus. The device communicates with the internet via Bluetooth, and has built-in memory to remember a user's cloud settings and store the finished sketch on other devices.
To draw more accurate geometric shapes, the Adobe boffins have built Project Napoleon, a button-equipped ruler about three inches long that projects straight lines, circles, and arcs on a tablet. Details are scant, but Adobe says it has been working on the device for a year.
Whether all these the new features and special projects will be enough to win over those who prefer to have their software where they can see it (and not have to pay a monthly fee) remains to be seen. In the short term, El Reg would expect to see an uptick in CS6 boxed copies as people grab them while they can. But looking ahead, if you want the latest features from Adobe it's cloud only from now on.
"We believe that Creative Cloud will have a larger impact on the creative world than anything else we've done over the past three decades," Adobe said in a letter to customers. "It is our single highest priority to enable deep integration between our tools and services." ®
* Bootnote
Before you start, yes, we know that Napoleon was not the short-arse of common misconception – even among Adobe engineers, it seems.
The former Emperor of France was not short by the standards of his time, standing five foot seven in his stocking feet. Owing to difference in length between the English inch and now-defunct French pouce, which was a metric version of the Imperial measurement, it was thought by some that he was five inches shorter, not least by British propagandists who liked the idea of the nation's enemy as an angry runt.