EMC throws ViPR into software-defined party
Software-defined storage snake slithers into service providers
---
If you can't beat it, eat it - that seems to be EMC's idea with the launch of ViPR, a scheme by the storage provider to gain a foothold in data centers infected with low-cost IT gear.
ViPR can work as a storage controller for traditional and newer infrastructures, and also talk to older systems, EMC announced on Monday at its EMC World conference in Sin City, AKA Las Vegas. It does this by separating the storage control plane from the data plane.
"What we're essentially doing is providing a layer of software to let you manage existing EMC arrays, third party-arrays, and commodity storage," Jeremy Burton, EMC's executive veep of product operations said. "We think this is critical – in particular for service providers."
ViPR can slither into newer systems via inbuilt support for the AWS S3 and HDFS APIs, while still supporting traditional protocols like NFS and iSCSI. The system also provides a way to interface storage infrastructure with VMware virtualized systems as well.
As revealed by The Register last week, ViPR is EMC's way of taking control of commodity hardware infrastructures. It is designed to do to storage what VMware did to servers and software-defined networking is doing to, well, networks.
The controller works as a one-stop management technology for data centers containing a mish-mash of varied hardware estates. It can identify block and file storage, virtualize it, and provision those pools of capacity to applications.
"In the same way that operating systems are smart about detecting the presence of things like graphics co-processors (and offloading processing), the EMC ViPR Controller is smart about what it finds in the underlying storage infrastructure. If it can offload processing to the underlying array and leverage the intelligence there, it will," EMC said in a statement.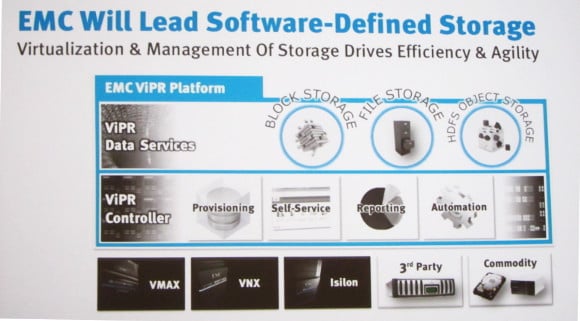 ViPR: EMC's attempt to bite into software-defined storage
The kicker – because EMC is not going to make enough money by having just a management tool – is how ViPR can magnify power of VMware-virtualized infrastructures.
It does this via its "Object Data Services" component, which lets the tech view objects as files. It also lumps in support for HDFS and S3 clouds, along with EMC Atmos, VNX and Isilon arrays.
"This enables the customer to determine, based on the application workload, what the suitable performance, quality of service and cost characteristics should be," EMC said in a statement.
Besides supporting VMware APIs, the ViPR controller will use tools within the vCloud Automation Center and the vCenter Operations Manager to help it expose ViPR storage to Microsoft (Hyper-V) and OpenStack (KVM) virtualized environments as well – no mention was made of Xen.
As time goes by, the data services component of ViPR will grow to provider further services. We note that besides working with virtualized software-defined networks via its innate VMware VLAN compatibility, EMC is still partnered with Cisco on the Unifed Compute System scheme – perhaps ViPR could interlace with Chambers & Co's in-the-works SDN platform, for a fully virtualized, software-defined data center? ®