Flat mobe battery? Just light a fire
Hiker hacker's maker charger is a gas, gas, gas
---
Sick of running out of charge while on long walks, a Swedish tinkerer has crafted a thermoelectric phone charger to revive his smartphone and GPS by burning butane.
Vulture South notes that the setup, posted on Instructables here, is wildly inefficient, but it's a use-in-emergency approach. As David Johansson, the creator of the fire-powered phone charger explains, solar chargers can't be relied upon given Sweden's weather.
Fire is always on hand for the hiker, "usually an alcohol or gas burner", he said, so the engineer decided to build a thermoelectric charger. It's a simple enough setup: a thermoelectric module rated at 5.9W with a 180°C difference between its hot and cold side, a heatsink, a fan also driven from the charger (to blow air over the heatsink), and suitable heat insulation.
The heatsink and fan are the type familiar to anyone who still has a desktop PC and has opened the case, four drywall screws holding the 40mm x 40mm fan in place.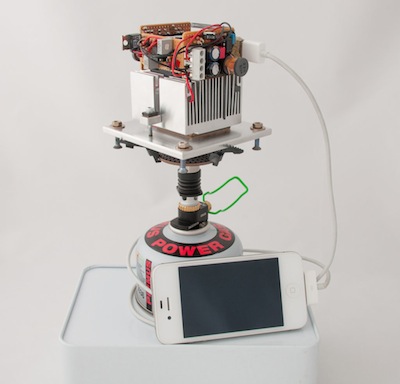 The fire-powered iPhone charger. Image: David Johansson
The main electronics required is a voltage step-up since the thermoelectric module's loaded output is 4.3 V rather than the 5 V required to charge the phone. ®
Similar topics
Narrower topics