US Army engineer wins Air Assault wings after repairing hi-tech leg twice
Air valve came off on obstacle course
---
A hard-as-nails engineer has successfully completed the US Army's tough Air Assault school despite twice having to stop and fix breakdowns in his prosthetic leg.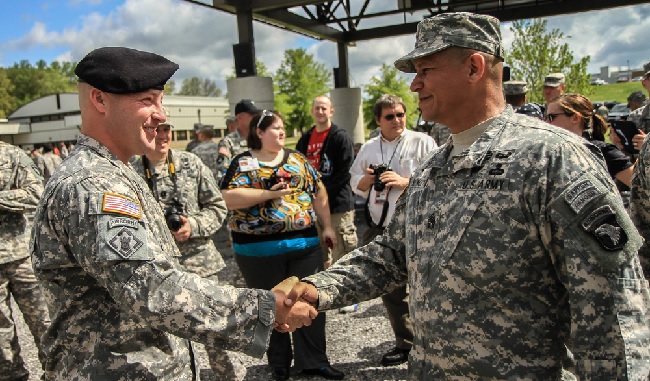 Sergeant Robinson (left), making an effort not to tread on any toes at his graduation from Air Assault school
"A disability is only a disability if you let it hold you down," said Sergeant First Class Greg Robinson, on being awarded his Air Assault wings on April 29.
Robinson lost his lower right leg after being hit during a gun battle in Afghanistan in 2006, an injury that many soldiers would have seen as career ending. However not only did he return to duty with a prosthetic replacement - he has now become the first amputee soldier to complete the Air Assault course. The achievement is all the more impressive as his leg suffered two breakdowns during the training, forcing him to stop and repair it on each occasion and then still complete his tasks within the allotted time.
According to a US Army statement, "an air valve was knocked off during the obstacle portion," of the final 12-mile run at the end of the course, which is conducted while carrying 35lb of kit.
"I had problems with my leg," comments the unflappable 34-year-old Robinson, "but fixed it and continued."
Air Assault training is undertaken by US troops serving with the 101st Airborne (Air Assault) Division. The unit was once a parachute formation, hence the use of the term "Airborne", but nowadays goes into battle aboard helicopters. Its members therefore don't go to jump school to earn parachute wings, but instead to Air Assault school to win their winged-helicopter badge. Apart from various runs, assault courses etc, the training involves rappelling down ropes and other techniques for working with helicopters.
"Some of these guys never even learn to walk on a prosthesis, let alone go through the Air Assault course," commented army medic Captain Gregory Gibson at Robinson's graduation from Air Assault school. "He's had this thing happen to him that most would see as a career-ender. He's a shining example that life can carry on." ®