Politically-correct 'Fairphone' goes on pre-sale next week
Evil-free recyclable mobe uses ethical ingredients, fair labor practices ... and Android
---
Fairphone, a social enterprise aiming "to bring a fair smartphone to the market – one designed and produced with minimal harm to people and planet" will next week offer pre-sales of its first handset, and if it can find 5,000 buyers the phone will become a reality.
The Fairphone's design calls for it to use minerals sourced from "a supply chain that guarantees sourcing minerals from areas that are free from violence and armed guards" and therefore don't send profits to dictators or those who use forced labor. The organisation aims to "have a transparent , long-term relationship with suppliers so as to ensure proper working conditions in the assembly line," with help from ethical labor organisation LaborVoices.
"As we are not in the business of putting more phones on the market, but rather creating phones that last, we are shaping a business model that supports this ambition," the outfit states, and expresses that through a phone that offers a replaceable battery, is designed to be recyclable and will be sold for a price close to its cost of manufacture.
Fairphone has been working on designs for a while and this week posted a survey depicting four possible designs. Once subscribers to the outfit's newsletter make their choice, the handset will go on pre-sale and its full spec revealed. For now, we know it will run Android 4.2, aka Jelly Bean, support dual SIMs and boast a 4.3 inch screen.
If 5,000 orders are secured, the phone will ship later this year for €325.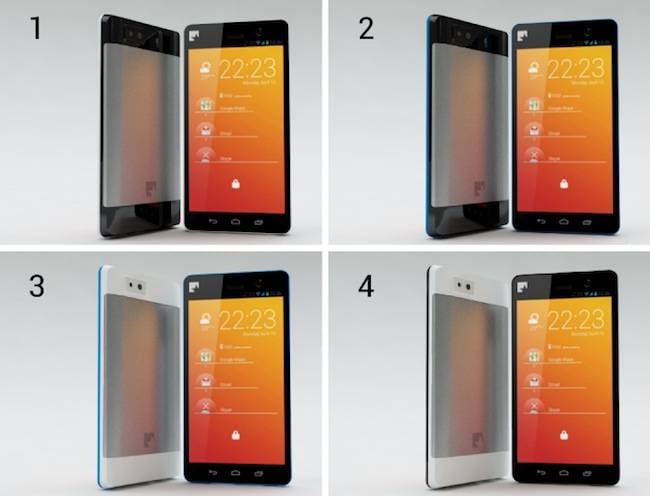 The four designs under consideration for the ethical 'Fairphone'
No, we can't tell the difference either
Just over 12,000 people have pre-registered to be offered the chance to buy a Fairphone. Registration remains open ahead of next week's reveal and pre-sale frenzy. ®