Micron brandishes sharp new flash blade, lunges at Fusion-io
'Our card is the best out of all our unnamed rivals'
---
Micron is touting a new server flash drive that's apparently significantly faster than Fusion-io's market-leading ioDrive 2.
Micron is believed to be supplying its PCIe-format drives to EMC for the storage giant's XtremSF flash cards. (EMC's other supplier is Virident.)
Micron's P420m flash drive comes in both PCIe and 2.5in SSD formats; the latter model is a radically better performing product than the P410m flash drive, despite being built with the same 25nm MLC flash:
The P420m SSD has capacities of 350GB and 700GB vs the P410m's 100GB, 200GB and 400GB
Random read IOPS up to 430,000 vs 50,000
Sequential read bandwidth up to 1.8GB/sec vs 410MB/sec.
The read-write latency is less than or equal to 75μs and 15μs respectively, and Micron calls this "ultra-low latency". It isn't, not compared to SLC-based PCIe latency - as we shall see.
In its half height, half length PCIe format, the P420m contrasts the SLC P320h, which uses older 34nm NAND cell technology:
The P420m PCIe card has capacities of 700GB and 1.4TB vs the P320h's 350GB and 750GB
Up to 750,000 random read IOPS vs 715,000
Up to 3GB/sec sequential read bandwidth vs 3.3GB/sec
Read/write latency of ≤75μs/ ≤15μs vs <42μs/<9μs.
The P320h has a significantly lower latency that the P420m.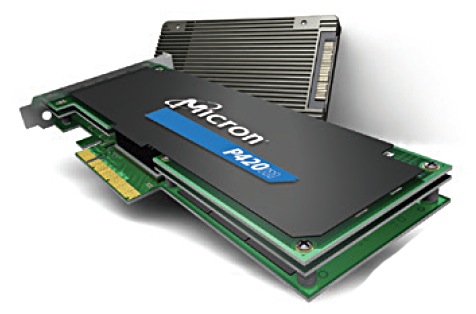 Micron's P420m flash drives
Micron says: "When tested against competing PCIe solutions in a MySQL server running an OLTP benchmark, the P420m is the fastest and most consistent performer, delivering more than 3,200 web server requests per second."
The competing products weren't identified.
The Fusion-io's ioDrive 2's 1.2TB card is built using MLC NAND with a roughly similar cell size to Micron's P420m. Fusion specifies 2X NAND, meaning the process size of the chips is between 29nm and 20m. Its ioDrive's read-write latency is 68μs and 15μs respectively, slightly better than Micron's.
The ioDrive 2 does sequential reads at 1.2GB/sec, so Micron's competing hardware is more than twice as fast on this measure.
Although Micron is not revealing the P420m's endurance in its publicity material for the product - or on its website - a figure of 50PB written for the 2.5-in format product is quoted by StorageSearch.
Micron is sampling the P420m with production expected to begin in June 2013. ®