Oracle, SAP under attack: How cloud upstarts steal their lunch
Biz bosses can't wait to offload gear to rivals, or so we're told
---
Analysis After more than 20 years coining it, the Goliaths of the lucrative enterprise software world are about to meet their Davids: nimble rivals touting technology at a sensible price.
And as we shall see, with customers jumping on cheaper services, ultimately the giants could be destroyed by their reliance on expensive support contracts.
IBM, Microsoft, Oracle and SAP are the biggest names in the global game of enterprise software. Oracle and SAP in particular dominate enterprise resource planning (ERP) and customer relationship management (CRM) - their code, installed on customers' machines, runs factories and warehouses, turns sales into deliveries, and keeps payments flowing.
These market leaders make billions of dollars a year selling software and charge yet more billions to support and maintain it.
NetSuite and Salesforce.com are two upstarts wanting a piece of this cash-stuffed pie. They were founded in the late 1990s, and offer CRM and ERP packages as an online service to rival the big boys' offerings. The pair of minnows host the apps on their own servers, in the cloud, and sell access to the software.
Their customers include Qualcomm, Cisco, Toshiba, GE, Toyota, Virgin Money, Burberry, BT, McKesson, Puma, and Procter & Gamble - the sort of top brands you'd expect to default to SAP and Oracle.
NetSuite's revenue for 2012 was up 30 per cent year on year to $308.82m, although it made a net loss of $35.23m, slipping slightly further into the red from 2011's $32m loss. Salesforce's revenue for the year ended 31 January 2013 was $3bn, up 35 per cent year on year, although it made a loss of $270m, surpassing the previous 12 months' $11m loss.
Meanwhile, Oracle's revenue for the year to 31 May 2012 was a whopping $37bn, up 4 per cent year on year. It enjoyed a net income of $9.9bn, but its competitors point to its slowing revenue growth. SAP is in a similar position: revenue for 2012 was up 14 per cent to €15.6bn, although its net income of €2.8bn is down from €3.4bn the year before.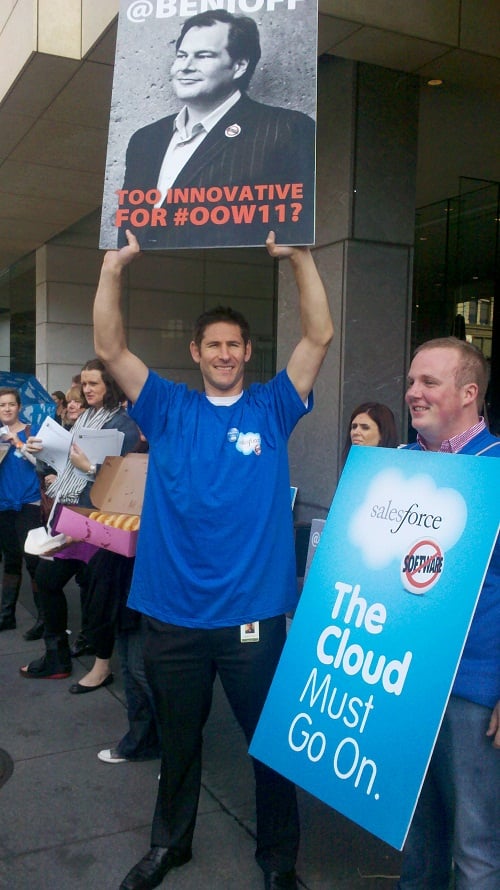 Salesforce out in force ... staff protest at Oracle OpenWorld
But these healthy figures mask a looming danger for Oracle and SAP: their revenue growth is slowing, especially since the global economy tanked in 2008 and everyone's belts tightened. As cash-strapped customers demand cheaper cloud-based products - which are powered by servers the customers do not have to directly maintain - Oracle and SAP's complex software licences and hefty support contracts suddenly look unappetising.
Oracle's full-year revenue growth in 2012 was 4.21 per cent, compared to 2011's 32.82 per cent and 2010's 15.34 per cent. Meanwhile, SAP's software and software-related service revenue is expected to grow 11 to 13 per cent this year, compared to the previous 12 months' 17 per cent.
If this turns into a full-blown crisis, it has been decades in the making.
How the cloudy upstarts got their feet under the table
Even though Oracle's software is seemingly indispensable, a good number of folks find it horribly complicated to install, maintain and use.
Seizing upon this, Salesforce, NetSuite and other online competitors hope to get their feet in the door at IT departments by touting customisable cloud-powered apps that are easier to manage and simply delivered through web browsers.
Allowing bosses to offload the applications to outside service providers will rock Oracle and SAP, we're assured.
Frank Scavo, president of management and IT consulting firm Strativa, told The Reg this simple shift in application management convinced one unnamed company with a 2,000-plus-seat SAP account to convert to Salesforce for its CRM system.
"I was in a deal last year for a well-established SAP customer, which SAP considered a showcase, and it was selecting CRM systems. It came down to SAP and Salesforce, and the customer picked Salesforce," said Scavo. "SAP had a strong relationship with this IT organisation, which had worked with SAP R&D. They thought it was a SAP shop, but that wasn't the way the business leaders saw it. They had more experience of Salesforce."
Piping an application from a cloud into an employee's browser makes it easier to deploy, install, upgrade and maintain, compared to running the software purely on in-house servers, we're told: new features are rolled out at the flip a switch in somebody else's data centre, not via some vast internal IT project.
Working out the cloud app's pricing is apparently more straight forward than the licensing red tape spun by enterprise software makers. Salesforce, for example, charges by the number of users in an enterprise, and offers a plan for an unlimited number of seats.
Ordering gear from Oracle and SAP, on the other hand, is a major financial decision involving various metrics – such as the number of users, devices, server processors and extra features in play. SAP's prices change if the word consultant appears in your job title; the software maker doesn't even publish a price list, making shopping around and negotiations harder. Oracle does have a price list but the giant's sales people, famed for their hard-nosed dealing, rarely stick to it.
Also, by relying on a service running on Salesforce's servers, for instance, you no longer need to buy and manage your own hardware to run packages from Oracle or SAP. Neither do you need another licence for the database coupled to the biz software.