Ray Harryhausen, king of stop motion, takes final voyage
Innovator who paved the way for modern special effects
---
Obituary Ray Harryhausen, the pioneering visual effects wizard whose name was synonymous with stop-motion animation, has died in London at the age of 92.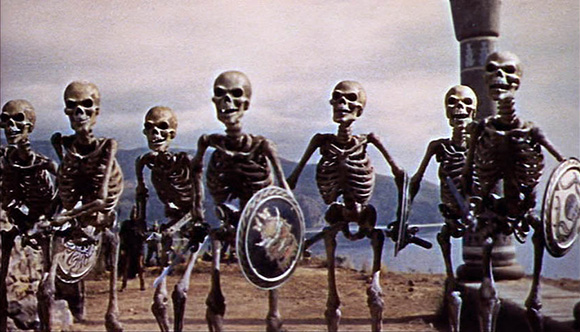 Pirates of the Caribbean's CG skeletons aren't a patch on these guys
Throughout his 33-year Hollywood career, Harryhausen was known for creating dazzling motion picture spectacles in which otherworldly creatures and mythical beings were brought to life using painstaking techniques that predated modern CG animation.
The Los Angeles–born Harryhausen was first inspired to pursue a career in film after seeing the work of animator Willis O'Brien in the original King Kong in 1933.
O'Brien would become both idol and mentor to Harryhausen, and in 1947 he hired the 27-year-old for what would become his first major film success, the King Kong–inspired Mighty Joe Young.
Although Harryhausen was only credited as an assistant animator on that film – and thus it was O'Brien who would eventually receive the Academy Award for its special effects – O'Brien was preoccupied with technical matters for most of the shoot, leaving Harryhausen to handle almost all of the animation.
A few years later, with the public's interest in stop-motion animation revived by a series of re-releases of King Kong, Harryhausen would become a solo act, leading him down a road that would eventually see him become a Hollywood institution.
Beginning with The Beast from 20,000 Fathoms in 1953 and continuing with such memorable films as It Came from Beneath the Sea, Earth vs. the Flying Saucers, and 20 Million Miles to Earth, Harryhausen wowed audiences with depictions of impossible monsters and unfathomable disasters, all animated with the utmost attention to realism.
But it wasn't until 1958's The Seventh Voyage of Sinbad, his first film depicting mythical themes, that Harryhausen produced his first genuine masterwork. It was also his first film in color, and its smashing box office success convinced Columbia Pictures to sign him on to make four more color films.
Throughout his 14 films, Harryhausen gave life to a menagerie of fantastic creatures
The third of these, 1963's Jason and the Argonauts, is widely regarded as Harryhausen's greatest work. Although not financially successful upon its release, its celebrated fight sequence between human actors and living skeletons showed Harryhausen at the pinnacle of his powers.
Next up were two dinosaur pictures: Hammer Films' eye-popping One Million Years B.C. in 1966, featuring a fur bikini–clad Raquel Welch; and the oddball Valley of Gwangi, in which cowboys battle prehistoric monsters in a Western setting.
Harryhausen would return to mythic themes for his last three films, The Golden Voyage of Sinbad, Sinbad and the Eye of the Tiger, and 1981's Clash of the Titans. The latter was released in the wake of such special-effects blockbusters as Close Encounters of the Third Kind, Jaws, Star Wars, Alien, and The Empire Strikes Back, yet it was still a modest box office success and is fondly remembered, proving the enduring appeal of Harryhausen's techniques.
Throughout his life, Harryhousen maintained close friendships with the science fiction author Ray Bradbury, Famous Monsters of Filmland creator Forrest J. Ackerman, and his frequent film producer, Charles H. Schneer – all of whom he outlived.
What will live on for years to come, however, is the enduring influence that Harryhausen's work has had on generations of filmmakers. His official Facebook page lists just a few of the tributes that have been paid to him by film directors and technicians over the years.
"I think all of us who are practitioners in the arts of science fiction and fantasy movies now all feel that we're standing on the shoulders of a giant," Avatar director James Cameron is quoted as saying. "If not for Ray's contribution to the collective dreamscape, we wouldn't be who we are." ®