This article is more than 1 year old
Don't bake your Raspberry Pi - now you can WATER COOL it
Brit's compressed cooler for turbo-charged micro PCs
Pic The Raspberry Pi is supposed to help teach kids how to code, but one Londoner has used it to learn how to fabricate a water-cooling rig, after building a liquid-filled radiator to cool his Pi.
Does a Pi need water cooling? The device can certainly be overclocked, and its designers, the Raspberry Pi Foundation, last year added a "turbo mode". A blog post announcing go-faster stripes said: "We are happy that the combination of only applying turbo when busy, and limiting turbo when the BCM2835′s internal temperature reaches 85°C, means there will be no measurable reduction in the lifetime of your Raspberry Pi."
Water cooling could therefore come in handy to keep the CPU temperature lower for longer, enabling more use of turbo mode.
The maker concerned, one "Phame", seems not to care about those niceties. His motivation seems instead to be a competition and the challenge.
Details of the project, complete with lots of shots of lathes and other machine tools, can be found in this bit-tech thread.
Towards the end of the thread (on page seven) you'll find lots of pictures, including the one below, of the completed beast.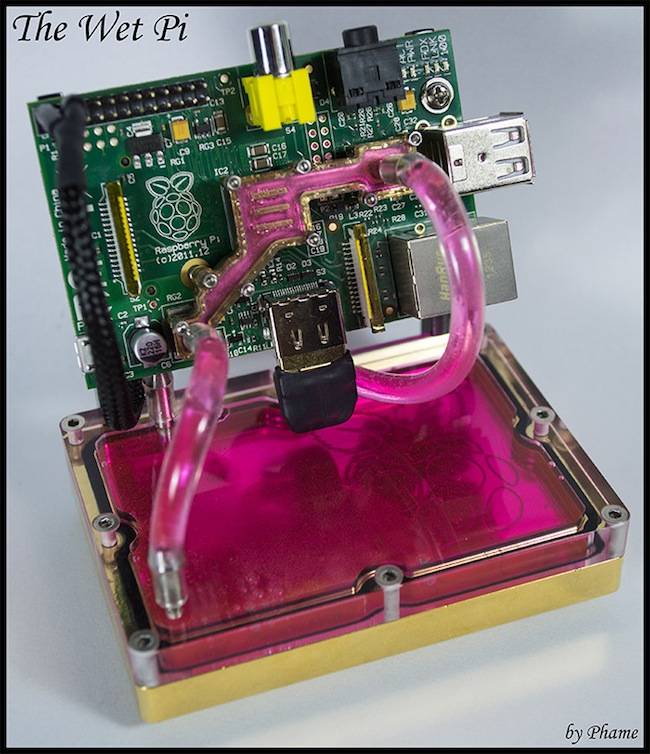 The 'Wet Pi', made by 'Phame'
What you're looking at is a coolant-filled radiator with twin pipes leading to a water block that sits atop the Pi's CPU, LAN controller and other components. The rig sits in a frame that houses a tiny British micropump drawing current from the Pi itself, just as the Pi guys intended. The frame, water block and radiator were all custom-made. The radiator even includes custom etching of the Pi logo on its interior.
The thread doesn't, sadly, say if the Pi runs with this rig attached. Phame's also posted a video, here, of the cooling rig in operation. ®