Oz chap blows his own Google Glass
'FLASS' uses Android, Bluetooth, tiny screen pinched from video goggles
---
A 20 year old Australian tech support chap named Nathan Myers has built his own version of Google Glass.
Dubbed "FLASS", a contraction of "fake Google Glass", the device uses a screen pinched from a MyVu Crystal 701, a short-lived late noughties gadget that tried to convince the world to watch video in a pair of glasses whose tiny, tiny, screens created the feeling of a far bigger screen because they were almost literally in your face.
One of the MyVu's screens has been pressed into service, latched onto a custom-made frame and hooked up to a Samsung Galaxy S i9000. That phone handily has TV out functions that pump its Android interface, enhanced by the Apex Launcher app, into Myer's right eyeball.
The rig also involves a Bluetooth headset and the utter! app that allows Android handset to accept voice commands.
"If I want to access my emails I hold down the button on my earpiece and it will announce 'I'm listening', to which I reply with 'Open Facebook' and utter! will go away and use Google's fantastic voice recognition to work out what I have said," Myer explained to The Reg by email. Within a second of that utterance, Facebook appears.
"I can ask it the weather, ask it to open Google Voice Search/Now and then get weather through that and sports scores," Myers added.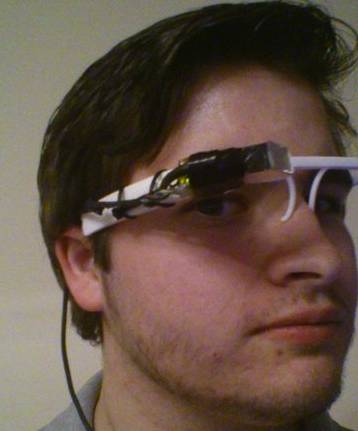 Nathan Myers and his home-brew Google Glass alternative, FLASS
Using another app named Tasker, Myer has even got the machine to open email and can dictate replies with utter!
Myer's rig and the methods he used to construct it are detailed in this Overclockers Australia thread. His future plans call for the FLASS to be enhanced with a Raspberry Pi, once its camera module emerges. He's also just posted a picture of a Beagleboard to his Google+ page, declaring it "the new brain of Flass." That page is also worth keeping an eye on if you fancy building your own FLASS, as Myers has hosted hangouts to discuss his project there.
You can watch vids of early FLASS versions here and here. ®
Similar topics
Broader topics