Fusion-io founders flee, ex-HP hotshot takes the wheel
Shane Robison becomes CEO of Woz flash firm
---
Right out of the blue, flash memory-maker Fusion-io has lost its CEO co-founder David Flynn, as well as its chief marketing officer, co-founder Rick White.
Board member Shane Robison has been named chairman, president and CEO. Messrs Flynn and White are resigning to pursue other entrepreneurial early-stage investing activities and will stay on Fusion-io's board in advisory roles for the next 12 months.
Robison, who has no CEO experience, left HP where he was an EVP and chief strategy and technical officer in November 2011, shortly after Meg Whitman became its CEO, replacing Leo Apotheker. It's thought by some that he had been tainted by the after-effects of the disastrous Autonomy acquisition.
Robison has a canned quote in Fusion's release announcing the news: "I am honored to lead Fusion-io through its next chapter of growth. Fusion-io has long been recognised for its visionary technology, and I look forward to working closely with the company's talented team as we continue to develop the critical technology that we all rely on to deliver the world's data faster. … Our customer relationships are strong, and working with the company's exceptional management team, I am excited to lead Fusion-io."
Lead independent director Scott Sandell said: "On behalf of the Board and entire Fusion-io team, I want to thank David and Rick for their significant contributions to the creation, development and growth of the company. David and Rick's vision as co-founders has redefined memory technology and had a profound impact on our industry. Under their leadership, Fusion-io has developed into one of the world's leading technology companies, helping businesses increase datacenter efficiency. They played an important role in taking the company public and developing a strong framework from which Fusion-io can grow to the next level."
Fusion-io stated that their departure is not related to any issues regarding the integrity of the company's financial statements or accounting policies and practices.
El Reg's storage desk reckons Rick White's departure followed that of David Flynn. One thing Flynn did not do was chase profitability, as a chart of Fusion-io's revenues and net income shows: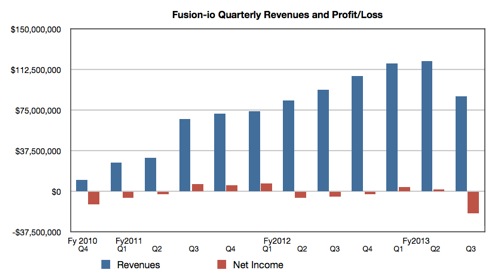 The loss and reduced revenue in the latest quarter was due to a slowdown in orders from Fusion-io's two largest customers, Facebook and Apple.
Fusion-io also acquired hybrid storage array startup NexGen for $119m in the quarter. The scenario that occurs to us is that Fusion-io's board was dismayed at the slow progress being made in lessening dependency on Facebook and Apple and wanted the company run so as to build profits going forward and exit the startup, grow-the-revenues-at-all-costs phase of its growth.
El Reg storage desk imagines that Flynn would not have agreed with such a strategy, leading to his resignation, followed by that of White, although we stress that this is merely conjecture.
The trouble is that Flynn is a visionary leader whereas Robison is an EVP-class corporate staffer who has never run a company. He is a proven executive. But proven CEO? Until the principals involved here speak we won't know any further details.
Flynn and White founded a company that comprehensively disrupted the server acceleration market and established PCIe flash as the way to accelerate server applications. Every server vendor and mainstream storage vendor and several other startups are now dancing to their tune.
Flynn's vision of using flash as storage-class memory for servers and using additional system-level level software to bypass traditional server OS disk-based IO subsystems is still being worked through, with Virident its closest competitor.
Whether Robison can lead Fusion-io effectively through this technology transition is an open question. How the company's strategy will develop going forward is another.
There's no word on whether Fusion-IO's chief scientist Steve Wozniak plans to haul anchor.
Fusion-io's shared dropped 26 per cent to $13,39 on the news. ®