This article is more than 1 year old
Don't use Google+? Tough, Google Glass will inject it INTO YOUR EYES
And - shock - it phones home to the cuddly ad giant
Google's techno-specs Google Glass can now deliver Google+ notifications direct to the eyeball - while consuming less power and also reporting back to the Chocolate Factory when things go pear-shaped.
The firmware update is being sent out to those selected by the advertising giant for early access to Glass, which still lacks a public launch date. As well as better integration with the rest of Google's services - such as its social network Google Plus - the update improves voice recognition and head detection.
Living up to its name, Phandroid reports that the "XE5" release software performs transcription of spoken messages "wicked-fast" [sic] and improves stability, as well as reporting crash status codes back to Google.
Critically, the update still fails to provide any reason why one would want to strap a small Android camera phone to one's head and beam moving images into one's field of view.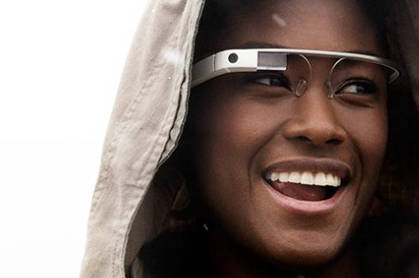 This looks absolutely normal, right? ... wearing a Google Glass
Wearable computers have been around for decades, without engendering more than casual interest outside the tech community. Members of that community are now writing blogs (and news) about Glass enabling Google to claim there's a huge interest in it based on internet traffic. Tech publications are busy endorsing each others' opinions that the time for wearable computers has finally arrived, whist dismissing the naysayers – who in turn ask silly questions like, "what's the point of this?"
The iPhone was similarly revolutionary; existing technology packaged in an appealing way by a big corporation. However, it owes a good deal of its success to mobile operators who subsidised the hardware and financed the advertising; things they're unlikely to do for Google Glass.
Google Glass seems much more reminiscent of the Sinclair C5, the electronic tricycle which mesmerised engineers and factory workers alike. Sinclair was working in secret, so staff reassured each other they were on the cusp of a revolution - which only fell apart once the public got involved.
There will, no doubt, be several more updates to Google Glass in the months ahead, and probably a hardware revision or two before the product is finally launched. To succeed, Glass will have to do something that previous wearable tech didn't. So far it's not obvious what that killer functionality will be, and El Reg reckons Glass is going to have a tough time appealing to the general public. ®