This article is more than 1 year old
Deep inside Intel's new ARM killer: Silvermont
Chipzilla's Atom grows up, speeds up, powers down
Remember hyperthreading? Fuggedaboutit
We should note that one thing Silvermont has dropped from its predecessor microarchitectures is the ability to run two instruction threads through a core simultaneously. "With Saltwell," Kuttanna said, "we had hyperthreading on the cores. We had four threads operating on two physical cores. With Silvermont we dropped the support for hyperthreading because it wasn't the right trade-off for us with Silvermont where we were ... going after higher single-thread [instructions per clock cycle (IPC)]."
According to Kuttanna, the "return on investment" for keeping hyperthreading in Silvermont wasn't worth it, and the microarchitecture's designers chose instead to increase that all-important IPC rate by adding OoO processing and increasing the number of compute cores in high-end parts.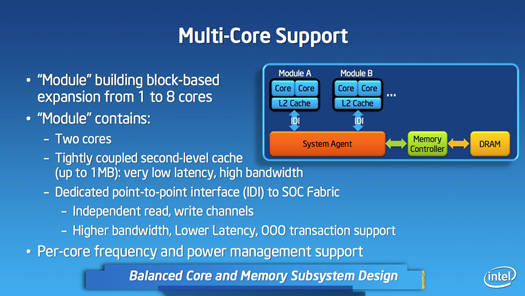 Silvermont's modular architecture will pack up to eight cores, two by two – or one (click to enlarge)
In addition to maturing with such additions as OoO and improved branch prediction, Silvermont also grows up with the addition of some new instructions. "We had the luxury of looking at what's already developed within this mature architecture we have with IA," Kuttanna said, "and focus on what are the ingredients that actually will be useful in the market segments that we are trying to target with the Silvermont-based products."
Among those ingredients that Intel has added to Silvermont are streaming single instruction, multiple data (SIMD) media-processing extensions from the Westmere-level Core instruction set, namely SSE4.1 and SSE4.2, along with POPCNT, plus AES-NI encryption/decryption for enhanced security.
Hardware-level virtualization capabilities are also enhanced with the addition of Intel's second-generation VT-x2, which adds capabilities such as extended page tables that allow the guest operating system within a particular platform to manage its memory space more efficiently, Kuttanna said.
"We also have other features such as virtual processor IDs," he said, "that allow us to retain some of the states within our [translation lookaside buffers (TLBs)] when you're going through a [virtual machine] transition." And if that's a bit opaque for you, don't break your brain trying to figure it out, just know that it'll make life easier for developers working on virtualization implementations for Silvermont systems.
Speaking of gearheads, their lives should be also made easier by the addition of new debugging tools. "We've introduced a new technology with Silvermont called Real Time Instruction Tracing that we'll make available to our OEM partners to help them debug both the hardware and software that's running on these platforms," Kuttanna said.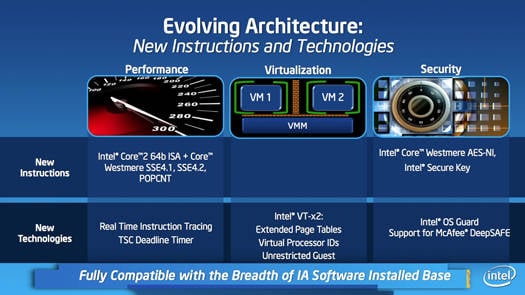 Silvermont will borrow instructions from its big brother, Westmere (click to enlarge)
Okay, so Silvermont has a wide range of improvements over its Atom predecessors – but what will all those tweaks add up to in terms of performance? Quite a bit, if Perlmutter and Kuttanna are to be believed. As we mentioned earlier, Intel claims an overall 3x improvement in performance or a 5x improvement in power savings.
As for exact clock speeds, wattages, core-counts, and the like, they'll be announced along with the upcoming platform announcements. "When we talk about Bay Trail, Merrifield, et cetera, we'll give you the specific power and performance numbers," Kuttanna said.
Both presenters at the Silvermont rollout emphasized that simply counting cores in mobile processors is not a useful way of determining performance – and, of course, since they were debuting their new Atom core, they could be expected to make that point. But they were adamant.
"When it comes to cores, especially in the mobile space and phone," Kuttanna said, "there's a trend to be increasing the number of cores and providing the perception that it always leads to better performance." Not so, he said, displaying a slide that showed a dual-core Silvermont far outpacing an unnamed quad-core competitor in performance per watt.
The title of that slide, by the way, was "Not All Cores Are Created Equal".
"It's all about how you design your cores and the operating range of your cores to take advantage of the sweet spot in that operating range," Kuttanna said – the sweet spot meaning good performance at a reasonable power draw. "Our dual-core solutions can actually outperform the quad-core solutions."
Again, Perlmutter was more matter-of fact. "You could put in eight lawn mowers and you could not fly a jet," he said.
In that vein, we'll find out soon enough if Silvermont will enable Intel's mobile ambitions to take off, but – conceptually, at least – it appears that liftoff might finally be possible after years of acceleration down what has proven to be a long, long runway. ®