This article is more than 1 year old
FTTN cabinet survives Kiwi car crash
Malcolm Turnbull's FTTN NBN plan now proven to be physically robust
Update Maclolm Turnbull will be smiling today. The communications spokesperson for Australia's opposition recently advanced a fibre-to-the-node (FTTN) plan for the nation's multi-billion National Broadband Network. That plan calls for tens of thousands of roadside cabinets to be constructed as the node to which fibre connects, before using copper for the final copper run to a user's premises.
The cabinets have been criticised as electricity-chewing eyesores that could represent weak points in the network, as each would represent a bottleneck for the neighbourhood they serve.
But a car crash in Auckland, New Zealand, has just shown the cabinets can be rather tougher that one might imagine.
Posters on Kiwi tech community Geekzone yesterday noticed that a car (probably a four-wheel drive) ran into a FTTN cabinet used by Kiwi Telco Chorus to deliver its Whisper service. Posters in the thread were sent emails of the damage by Chorus, including the picture below.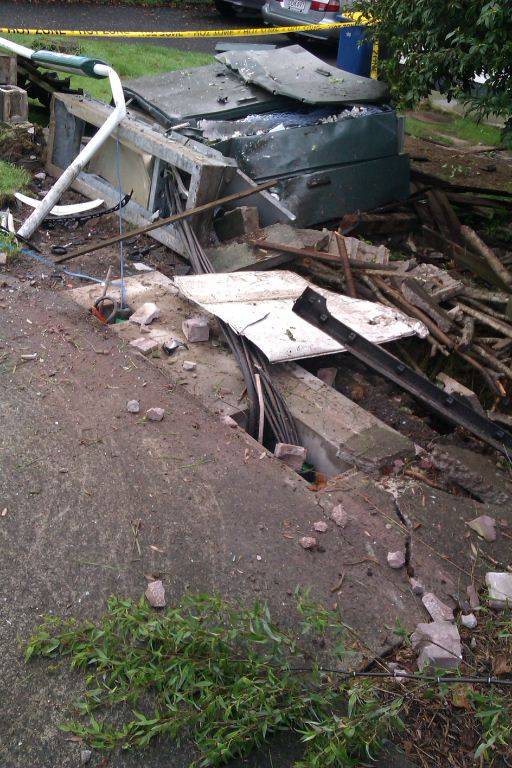 A FTTN cabinet in New Zealand that was hit by a car and kept working
Source: Geekzone
New Zealand's National Business Review now reports that the cabinet kept working for hours after the incident, with Chorus spokes-singers saying there was enough slack cable beneath the box that being knocked off its pedestal wasn't fatal. Nor did being cut off from its power source end service: an on-board battery kept connections alive and a replacement is due to go into service today.
The happy news of continued service and swift replacement will doubtless put a smile on Turnbull's face, as it's a nice little proof point for the robustness of his plan. Those hoping to use their 4WDs to …. errr …. accelerate fibre-to-the-premises upgrades to their local broadband infrastructure will, Vulture South expects, soon be back at their drawing boards. ®
Update
Further posts to the thread we linked to above suggest internet service did not last for very long, if at all, once the cabinet took the hit. Phone services also appear to have been disrupted and Chorus is saying residents can expect a three-day outage.