This article is more than 1 year old
Seagate: Who us... no flash cred? Check out our PCIe card, suckers
Joins flash mob in earnest, pushes out SATA and SAS SSDs too
Seagate has opened up fresh fronts in its assault on the flash market and announced SATA and SAS SSDs as well as a PCIe flash card, signalling for the first time in a product sense just how serious it is about becoming a major league flash product supplier.
There are basically four products: the 600, 600 Pro and 1200 SSDs and X8 Accelerator PCIe card. The two 600s and the 1200 come in ordinary and HE (High Endurance) versions.
The 600 is a client SATA product, aimed at the notebook (and desktop) retrofit market, while the 600 Pro is an enterprise SATA interface product. The 1200, meanwhile, is an enterprise SAS product, while the X8 Accelerator, obviously, is a server-accelerator card.
600 Client SSD
This product has a 6Gbit/s SATA interface and 120GB, 240GB and 480GB capacities. It's built using 19nm MLC flash from Toshiba and provides:
up to 80,000 random read IOPS,
up to 70,000 random write IOPS,
up to 500MB/sec sequential reads,
up to 400MB/sec sequential writes and
read latency of 70μs and write latency of 80μs.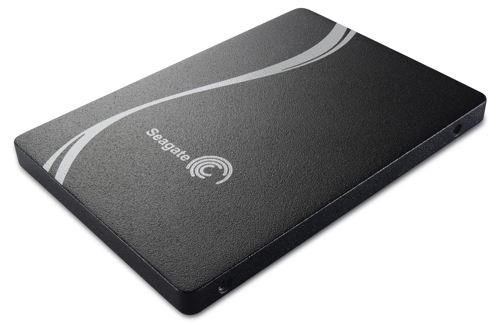 Seagate 600 client SATA SSD
Theoretically, this product should kick the ass of any notebook or desktop hard drive. Seagate reckons it has an 0.58 per cent annual failure rate and the 480GB can have 72TB written to it over five years. It comes with either a 5mm or 7mm z-height to wide its applicability.
600 Pro Enterprise SATA SSD
This product also has a 6Gbit/s SATA interface and the same 120GB, 240GB and 480GB capacities and 19nm MLC flash from Toshiba but its performance profile is different:
The stats provided indicate:
up to 85,000 random read IOPS,
much lower 40,000 random write IOPS,
higher 520MB/sec sequential reads,
higher 450MB/sec sequential writes and
average latency of 140μs.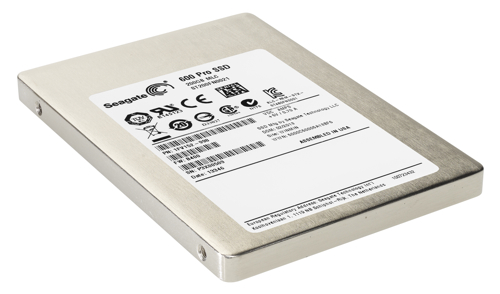 Seagate Enterprise SATA SSD, the 600 Pro
Seagate claims it has the best-in-class IOPS/watt rating and its endurance over a five-year usage-based warranty is two full drive writes a day. Like the 600 it comes with both 5mm and 7mm z-height dimensions.
The HE version sacrifices some capacity for higher endurance. So it comes in 100GB, 200GB and 400GB capacities and the 400GB product can have up to to 1080TB (1PB) of data written to it written over the five-year warranty period.
For a direct comparison here are the individual 600 Pro and 600 Pro HE endurance numbers in terms of total TB written over the drive's lifetime:
600 Pro: 120GB - 24TB, 240GB - 134TB, 480GB - 350TB
600 Pro HE:100GB - 220TB, 200GB - 520TB, 400GB - 1,080TB
Charting it makes the relationships clearer: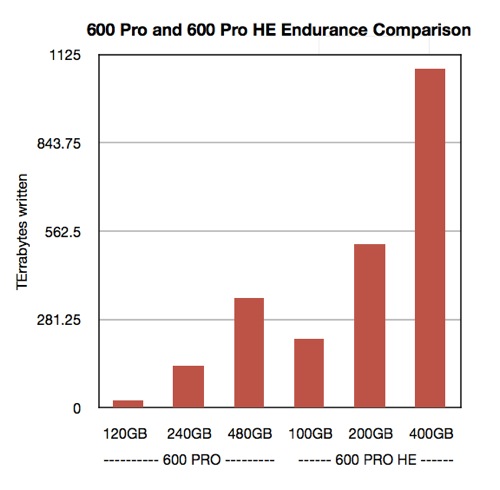 High endurance really does mean high endurance.