YouTube Trends Map pokes tacky underbelly of American psyche
'What do women want?' Not what men do, apparently
---
YouTube has unveiled a new way to place your finger on the pulse of American culture – even though the beat it detects may accompany a tune you might not want to hear.
"Are teens in the South watching the same videos as middle-aged folks in New England?" writes YouTube Trends Manager Kevin Allocca in a Tuesday post on the company's Trends blog. "Now with the YouTube Trends Map (youtube.com/trendsmap), you can see today's most popular videos in major markets across the U.S."
The Trends Map page provides – you guessed it – a map (US-only, for now) – that displays tiny thumbnails of the most-watched videos in nearly 150 US regions. Mouse over a thumbnail and a window pops up showing larger thumbnails of up to three top videos in that market.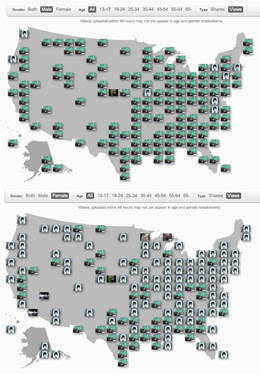 Men prefer high school water polo fights (top),
Women prefer child abuse prevention (bottom)
(click to enlarge)
Click on any of those thumbnails, and a window takes over the Trends Map page, in which you can either watch the video or click through to the YouTube page where the video is hosted, for the "full watch" experience.
You can choose to have the map show videos viewed by men, women, or both; by all age ranges or a choice among seven slices from 13-17 to 65-and-up; or by videos shared or viewed.
The Trends Map provides an up-to-the-minute view into the collective tastes of US regions and demographic subgroups – and when we fired it up this afternoon here at Vulture Annex, that view did not exactly show men in a positive light.
Overwhelmingly, the most popular video viewed today – especially by men – was of an altercation between two high school water polo teams in Florida. That no-audio bit of adolescent pushing and shoving was the top video among men in 94 per cent of the surveyed regions.
Women, on the other hand, preferred a thoughtful video of a Spanish outdoor display about child abuse that is designed to deliver one message to short kids and another to tall adults by using lenticular lenses. That video was preferred by women in 65 per cent of the regions surveyed — the Floridian bit of macho posturing garnered top-viewed status by women in 32 per cent of the surveyed regions.
All-in-all, the Trends Map is a fascinating peek into the American psyche – although you may not always be heartened by what you find. ®