This article is more than 1 year old
Bolshy investors launch yet another assault on Emulex board
Ethernet switch-maker now fending off blows from TWO pissed off hedge funds
Angry investor Altai Capital Management has written an open letter to Emulex CEO Jim McCluney demanding the resignation of Emulex's board after it rejected a takeover offer from Broadcom.
That's the view put across by activist investor Altai Capital Management in a public letter to Emulex CEO Jim McCluney.
Background
Emulex makes some Ethernet switching gear, plus its mainstream Fibre Channel host bus adapters to link servers to Fibre Channel storage area networks (SANs). Its main competitor is network infrastructure supplier QLogic. Recently Emulex acquired Endace, a New Zealand-based supplier of Ethernet link monitoring equipment, for $130 million.
Emulex is under assault by two hedge funds: Elliot Management, which has a near-10 per cent holding and two of its nominees on Emulex' board, and Altai Capital Management, which holds 6.04 per cent of Emulex Corp's shares. Both Altai and Elliott want Emulex to provide far more money to shareholders than it has, either by repurchasing shares to drive up their price or by running the business better to create more business value.
Altai's letter
Altai's letter is precise and pointed.
Its main points are:
1. Emulex's share price has been lower than it should following the Endace acquisition announcement on 5 December last year. It "has materially underperformed the market as well as its closest competitor, QLogic," as the chart shows: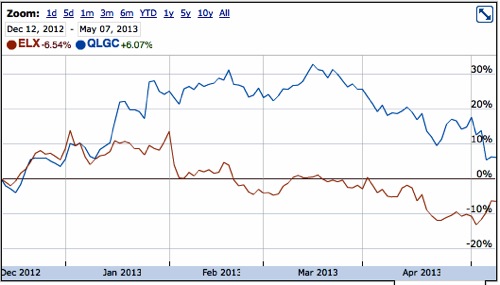 Emulex and QLogic share price trends since Endace acquisition announced (Source: Google Finance)
2. It will take up to 17 years for Emulex to recoup the $130m Endace acquisition cost.
3. With Emulex shares priced today at $6.29, management should not have rejected the $11/share Broadcom offer in July 2009. The letter says: "if your Board had accepted that offer, shareholders clearly would be much better off than they are today."
4. At that time management projected 2012 revenues of $600m and $1.45 earnings/share. In reality revenues were $502m and EPS $0.68; misses of 16 per cent and 41 per cent respectively.
The letter states: "Given [its] sizeable forecast miss in the midst of a decision that had enormous economic consequences for your shareholders, we believe it will take many years for management to regain credibility in the public markets."
On the basis of these four points Altai recommends:
We contend that the best course of action is for Emulex to initiate a sale process, and we therefore request that the current Board engage financial advisors immediately to undertake this task in earnest. We believe that a sophisticated buyer with the opportunity to properly diligence the Company could pay a healthy premium to today's share price and still earn an excellent return.
If it does not do this, Altai wants the board members who rejected the Broadcom bid to resign and will consider all its options to achieve this, including a threat of a shareholder vote proxy war at Emulex's next annual general meeting.
Are Elliott and Altai working in partnership to achieve the same ultimate end? It certainly seems so. If they formally band together, then Emulex's board and CEO may be vulnerable to their concerted action. This time next year Emulex could have had a head transplant and/or be sold. ®