TARDIS materialises in Sydney
Whovians rather less excitable than Apple fanbois as Who merch store opens
---
A bright, early, morning, a long line of fans queued outside a soon-to-open shop, and a Reg reporter.
No, dear readers, you haven't missed an iPhone release, but instead the public emergence of the Dr Who pop-up store, a merchandise outlet erected by the avaricious cunning folk at BBC Licensing, who've decided to give Australian Whovians a chance to buy merch otherwise available only online.
The Beeb's antipodean outpost offered local fans the chance to take home a piece of free Who tat if they appeared in costume and were among the first 20 people so attired to cross the store's threshold. When The Reg arrived at 9:40 AM, around 60 folks awaited the 10:00AM opening, maybe half in costume, and headed by "The Doctor" and "River Song".
The Doctor's really a commercial cookery student named David and River, real name Jasmine Thorn is a freelance publicist. David arrived at 6:50 AM, having risen at around 5:00AM and travelled about five kilometres to the store.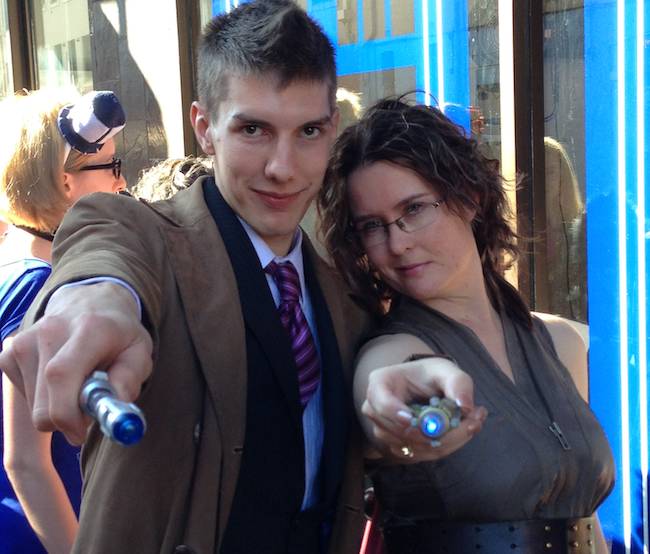 The Doctor and River at the opening of the new Dr Who pop-up store in Sydney
That's pathetic compared to Vulture South's experience at Apple Store queues on iPhone launch days, when folks slept overnight on pavements. The assembled Whovians, by contrast, had only a couple of empty Red Bull cans and sore feet to offer as proof of their adoration.
They were, however, rather better dressed than their phone-loving comrades of the queue, as the shot below of Tardis Rachel Langley, Weeping Angel Laura Mead and Dalek-skirted Jaime Nugent attests.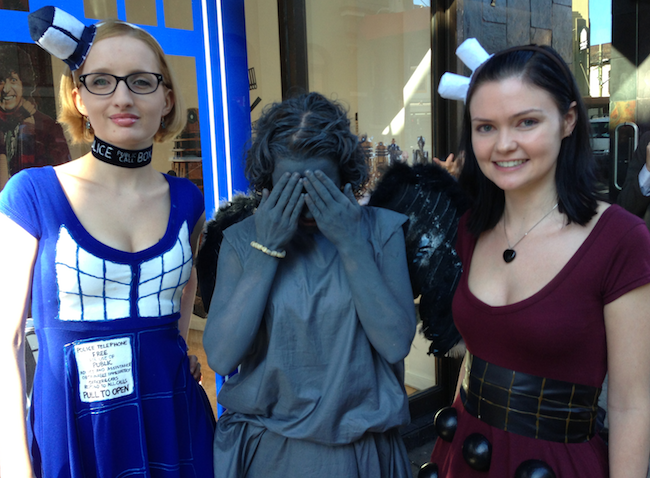 Dr Who fans outside the new Sydney Dr Who pop-up store
L-R: Tardis Rachel Langley, Weeping Angel Laura Mead and Dalek-skirted Jaime Nugent
Why were they there? As your reporter worked his way down the queue and asked why the mix of students and folks pinching an hour from their paid employment wanted to spend up at the first available opportunity, a "need" for Who merch was often advanced.
A real need, we asked, having learned that many in the queue fancied coffee mugs or a new sonic screwdriver as the day's booty.
The best answer came from student Samantha Green, who when informed that at her age your correspondent's cash mostly went on beer offered the following riposte:
"Booze is more expensive and it only lasts one night."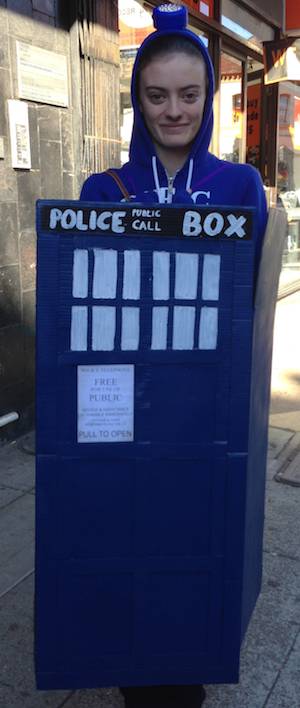 Kate wearing her home-made TARDIS,
complete with LED-light-sewn-into-hoodie
Kate's train ran late, leaving her at
the back of the queue,
but her costume deserves a pic!
The consensus among the crowd was that Dr Who merch comes in handy in all sorts of social situations, makes watching the show more fun and is reusable.
Rachel Hammond, BBC Worldwide's senior licensing executive for Australia and New Zealand told The Reg the shop will probably operate for six weeks and offers the chance to buy merch never before sold on Australian soil. Cashing in on the 50th anniversary is one motivation for the store's erection, she said, but the fact Australia's busy Dr Who fan club regularly meets in the same suburb means she feels she's also doing the fans a favou.
Hammond feels that suburb where the store has materialised – the infamously hip Newtown* – has the right demographic and weekend shopping magnet status to attract local Whovians.
The presence of a Dalek once used on a real, live, Dr Who set won't hurt either. Nor will the Australian debut of Dr Who homewares, a range of crockery and other kitchen kit.
Prices were steep, but lines were long.
That combination did not deter River, aka Jasmine, who picked up the featureless black cubes from the episode "Power of Three" and told The Reg she appreciated the chance to peruse Who merch in the flesh, as doing so removed all those pesky internet shopping worries about package pickup and whether a British size "M" is the same as its Australian equivalent.
Hammond was non-comittal about whether this is The Doctor's last such venture.
"You never know where The Tardis will land," she chuckled, as the queue outside and at the till lengthened. ®
*Physically, Newtown is the closest thing Sydney has to a British High Street, but without the chain stores. Instead you'll find fixies, cafes, too many Thai restaurants, independent fashion stores, posh pubs heaving with monied twenty-somethings and an inexplicable rash of gelati and/or frozen yoghurt bars.