This article is more than 1 year old
Over ONE-THIRD of PCs will have SSDs in 2017 - analyst
Hang on, will people still be buying computers then?
As hard disk drive (HDD) shipments into PCs continue their downwards slide, solid-state drive (SSD) shipments should rise at least 600 per cent between 2012 and 2017, say market researchers.
Of course, solid-state drive sales represent only a small proportion of the market currently, which means that by 2017, vendors will sell half as many SSDs as HDDs for use in PCs.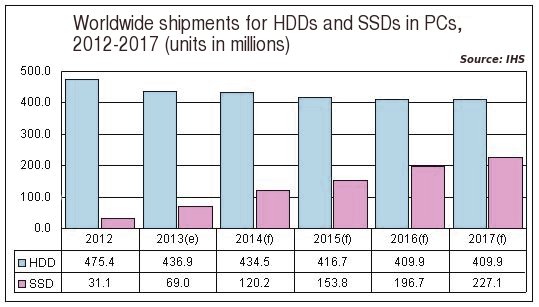 The IHS iSuppli beancounters say that in 2012 unit hard disk drive (HDD) shipments for PCs were 475.4 million. This year the outfit predicts PC HDD and will be 436.9 million this year, falling to 409.9 million in 2017. SSD unit shipments for PCs were 31.1 million last year and will be 68.9 million this year, rising to 227.1 million in 2017. PCs with SSDs are expected to account for 36 per cent of the market in 2017, compared with 6 per cent in 2012.
That equates to a 14 per cent decline for HDDs versus a 630 per cent increase for SSDs between 2012 and 2017. HDD revenue in this market should reach $26.4bn in 2013 and decline to $23.5bn in 2017, when SDD revenues will reach $22.6bn, despite taking up smaller slice of the market. This is because they are that much more expensive. Perhaps they will cross over in 2018.
IHS storage analyst Fang Zhang said: "The HDD industry is suffering the multi-layered effects of a depressed market, resulting from a weak global economy, upgrades not being made for desktop and notebook PCs alike as replacement cycles get extended, and cannibalisation by flashier devices like mobile handsets and tablets."
For statistical purposes IHS includes cache SSDs where flash is used alongside HDDs.
IHS's beancounters say the 2012-2017 PC unit shipment compound annual growth rate will be -2.9 per cent for HDDs and 48 per cent for SSDs. It's these sorts of numbers that are prompting disk suppliers like Seagate to throw their hats firmly into the SSD ring. ®