This article is more than 1 year old
Israeli activists tell Hawking to yank his Intel chips over Palestine
Spokeswoman calls professor a hypocrite over his chip choice
Professor Stephen Hawking has been accused of hypocrisy by an Israeli activist group after he declined an invitation to speak at an important conference in Jerusalem this June, announcing instead that he's joining a growing academic boycott of Israel in protest of its policies towards Palestine.
"Hawking's decision to join the boycott of Israel is quite hypocritical for an individual who prides himself on his own intellectual accomplishment," said Nitsana Darshan-Leitner, director of the Shurat HaDin Israel Law Center in a statement.
"His whole computer-based communication system runs on a chip designed by Israel's Intel team," she said. "I suggest that if he truly wants to pull out of Israel he should also pull out his Intel Core i7 from his tablet."
Hawking had been scheduled to attend the fifth annual Presidential Conference, hosted by Israeli president Shimon Peres, but pulled out over the weekend. He had originally been reported as withdrawing on health grounds by Cambridge University, but rebutted this with a statement supporting the boycott.
"I have received a number of emails from Palestinian academics. They are unanimous that I should respect the boycott," he wrote. "In view of this, I must withdraw from the conference. Had I attended, I would have stated my opinion that the policy of the present Israeli government is likely to lead to disaster."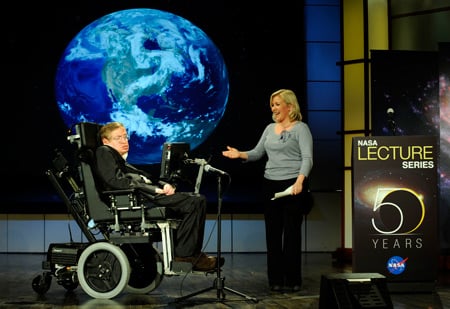 Israelis claim Hawking's use of Intel isn't kosher
The Hawk, 71, has been an Intel customer since 1997, and currently uses a couple of Lenovo ThinkPad X220 tablets with an Intel Core i7-2620M CPU running at 2.7GHz, and Chipzilla's 150GB 520 Series solid state drive. By a combination of hand movements and cheek twitches, he can write at a rate of around 15 words a minute.
Intel has had a team working with Hawking over the past few years to develop facial recognition technology that might enable him to communicate more easily by mapping over 100 points on his face for input. He is also working with other researchers on brain scanning as a way to allow even better communication.
But the chips to power his fondleslabs come from Intel's fabs in Israel, Darshan-Leitner complains, and if Hawking wants to join an academic boycott of Israel then he shouldn't be so duplicitous, and cut his ties with Intel.
"He calls it an independent decision based on the unanimous advice of his own academic contacts here. I propose he first seek the advice of Intel engineers working here. He seems to have no understanding of this world," she said.
Hawking might be mainly concerned with matters of the cosmos, but he has plenty of trenchant views on matters more down-to-earth and isn't shy about expressing them. He called the 2003 invasion of Iraq a "war crime," and supports both nuclear disarmament and (unsurprisingly) universal health care. ®