Nokia's debuts new 'Fastlane' UI in $99 flagship Asha 501
Hopes to prop up ailing low-end biz, fend off Landfill Android™ avalanche
---
Nokia has unveiled a new UI in the flagship $99 Asha 501 to help fend off a dramatic collapse in sales of the low-end devices.
Strong sales of cheap but decent quality Asha in growth markets like China and Africa had helped the fallen Finnish giant weather a tumultuous transition to Windows Phone, which saw its smartphone sales crash.
Without the successful Asha line, Nokia's results would have been much, much worse.
But this year, the Asha is feeling the pressure from an avalanche of Landfill Android™, particularly in what were once its surefire markets: India, Africa and China. Chinese users especially have started buying no-name inexpensive Android phones.
Meanwhile, Nokia sales have dropped by a whopping 32 per cent year on year in Latin America, likely due to large shipments of Landfill Android coming into Brazil. The Finnish company also experienced a 28 per cent drop in overall sales in the Middle East and Africa - where the bulk of the shipments are low-cost feature phones and lower-end smartphones. Margins have also crashed.
Nokia's gambit is the new 2G full-touchscreen Asha 501, based on the ancient Series-40-on-steroids platform. It introduces novel two-sided UI. One side is the familiar grid of icons, "Home", the other is a timeline Nokia calls "Fastlane". Or in the marketing blurb, "the applications you use the most, the latest images you've captured or your social network updates, Fastlane is designed so that you're never more than a swipe away."
What a good idea.
Nokia says the $99 phone - which Nokia classes as a "smartphone" - will come in single- or dual-SIM models and use Nokia's proxy browser. Access to Facebook is free without a data plan - which is also a quite interesting. Bundling hardware, data and an OTT service together? Actually, Nokia recently launched a phone with a dedicated WhatsApp button, so it's not averse to giving a preferred OTT service a leg-up.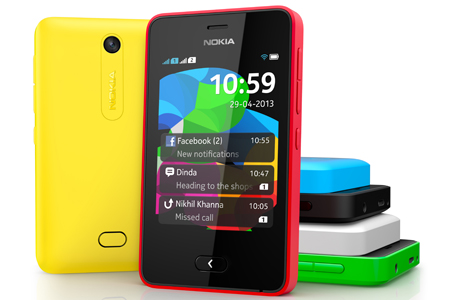 The Asha 501 comes in the familiar, toddler-friendly Skittle Bricks™ colours Nokia likes to use, but thankfully, appears to be moving away from in new phones intended for grown-ups. (Or so we hope).
You can find the 501's specs and a marketing video here.
Nokia has a press event in London next Tuesday, where expensive new Lumia-related things are promised. ®
Similar topics
Narrower topics