This article is more than 1 year old
'Raining Blooderator' pays tribute to late Slayer guitarist
Hanneman honored with site-splattering bloody web app
In a tribute to recently deceased guitarist Jeff Hanneman of the heavy metal band Slayer, a Minneapolis, Minnesota–based ad agency has released a web app that can rain simulated blood onto any webpage.
Enter any URL into the Raining Blooderator and your browser will be redirected to the requested page, with the addition of a layer of animated blood that pours down from the top of the window.
The site also provides a helpful bookmarklet and a Chrome extension to make the process even easier.
"Mourn like Metal", the Blooderator's homepage explains. "RIP Jeff Hanneman – let your jams with Dio and Dimebag be heard on the thunder."
Hanneman died of liver failure last Thursday at the age of 49, following a protracted battle with the flesh-eating disease necrotizing fasciitis, which he is believed to have contracted from a spider bite in 2011.
The disease caused Hanneman to lose significant tissue in his right arm and severely hampered his ability to play his instrument, leaving him sidelined from Slayer's recent tours. Previously, however, he contributed material to every Slayer album and penned many fan-favorite tunes, including "Angel of Death", "South of Heaven", "Seasons in the Abyss", and – yes – "Raining Blood".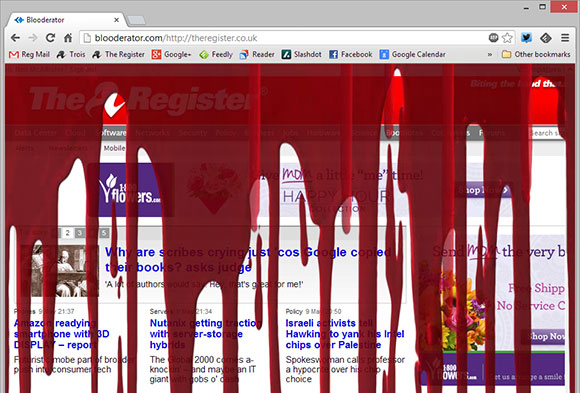 Bloodied but unbowed: The dear, old Reg under the influence of the Raining Blooderator
In the days since Hanneman's death, heavy metal musicians and fans have taken to the web and social media to post their tributes to the late guitarist, so it seems only fitting that he should have a permanent web tribute erected in honor of his music's dark aesthetic.
The Blooderator itself is the work of developers at Minneapolis-based ad agency Fallon Worldwide, but although the company's official Facebook page notes the site, it did not respond to The Register's request for comment.
Since we're sure that some of you would like nothing better than to see El Reg's homepage splattered with gore, we have provided you with a link here. Go on – you know you want to – and we could use some more bloody traffic. ®