How smart does your desk phone need to be?
IP phones promised the world, did you ever do more than dial?
---
The business IP telephone market has spent more than a decade trying to establish exactly how much intelligence the market wants in its telephones. The customer's answer has almost always been "less than the vendors want to sell us." Anyone looking for an albino pachyderm can therefore point to the CPUs and APIs baked into IP handsets as evidence the species is flourishing.
If an outfit like ShoreTel had cracked the secret of making desktop handsets relevant, they'd probably be getting a call post-haste regarding a cash-plus-shares takeover offer and a discreet absorption into the heart of the Borg.
What's more likely is that ShoreTel's Interop release of a dock that makes iThings better desk phones will inform a bunch of other releases and perhaps start to reposition what's expected of the office desk phone.
What the ShoreTel Dock offers is a stand with a cradle to hold an iPhone or iPad, plus a traditional telephone keypad. With real buttons, a speakerphone with and a handset complete with so-retro-it's-hip curly cord.
The cradle lets an iPad assume either portrait or landscape positions, and since it's a docking station there's power for the device you're using, Bluetooth, and a headset connector.
The ShoreTel Dock doesn't even do the communicating: the phone or tablet does that (preferably, in ShoreTel's world, via its ShoreTel Mobile app, but the company has enough sense not to completely leg-rope the system. Some features are specific to the company's app, but not all.
To round it out, the whole thing is zero-config – because the dock has no brains to speak of.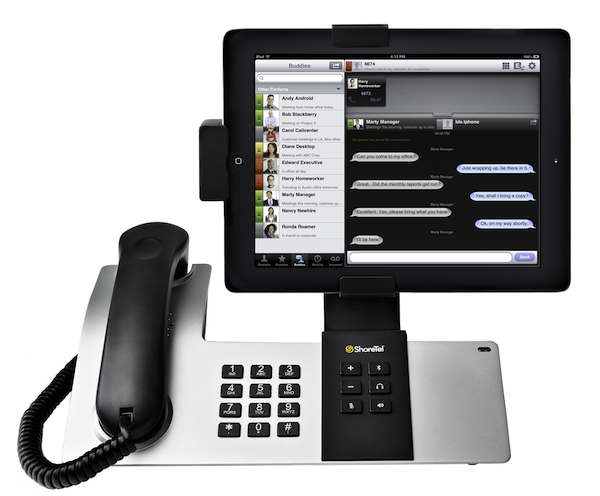 Who needs brains in the deskphone, when the fondleslab exists?
So what?
The mere existence of the dock is a finger in the eye for the phone-as-custom-app-client idea. It's also a nod in the direction of the fact that rolling out new enterprise IP telephones can be a miserable experience. A telephone with a Web server is a folly without warrant: all it provides is an insecure-by-default way to access phone configuration, imposing on the sysadmin the task of creating a non-default admin password. Either that task or the password will probably be forgotten.
Any brand-new out-of-the-box IP phone will probably start its life with a firmware upgrade, will need its own vulnerability protections, and in most cases, will be used without requiring the device to deploy more intelligence than the bit of boring bakelite that preceded it.
Those hassles, and the dedicated phones that propagate them, should surely be not long for this world, especially as in the BYOD world World+Dog has a smartphone or tablet that's more powerful, has a camera easily good enough for videoconferencing, a screen big enough for presentation sharing, contains the user's address book, and so on.
There's plenty of room for discussion, debate and refinement of just what it will take for smartphones and/or fondleslabs to replace deskphones: whether, for example, there's any real need for ShoreTel's old-style handset is probably debatable, and conveniences are missing if you're an Android user (although ShoreTel hopes to have that rectified by the end of the year).
But for something so simple, The Register finds itself intrigued by the notion that a tiny amount of physical functionality (decent speakerphone quality and a familiar interface) plus the right app might succeed in bringing have something to it.
Especially since the phone's/tablet's other functions remain available (even if you undock, because that doesn't break the Bluetooth connection). Even a fat softphone isn't all that demanding as a piece of software.
It's also likely to be a boon in any hot-desking environment – since the profile of the user comes with the device they dock, rather than being in the phone.
What do readers think? Is "as dumb as possible" the best answer to the question "how smart should the office phone be?" ®