Fallen flash flogger sTec says direct sales will save its bacon
Two years of plummeting revenue and a dim light at end of tunnel
---
Flash disk maker sTec isn't looking healthy. Its revenues have declined by over a third from the last quarter and net losses exceed revenues for this quarter - as they have done for the last 18 months.
Revenues from storage array manufacturers are falling away faster than the company's alternative revenue-generating efforts are growing and sTec's finances are floating in a sea of red ink, as its latest quarterly results show. It might, just might, have bottomed out, though.
sTec, the re-branded STEC, announced its calendar 2013 first quarter's revenues were $22m, less than half of the $50.4m reported a year ago and 37 per cent less than the last three months of 2012.
Profits? Nope. sTec made a net loss (greater than its revenue) of no less than $25.5m; the second time sTec has done this, but it's not an achievement to savour.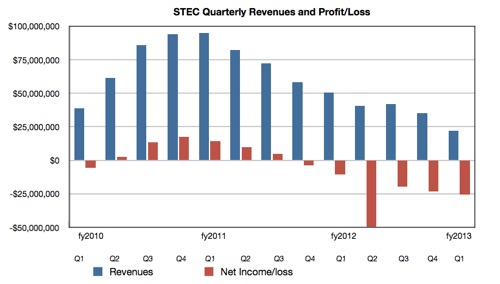 Down but not quite out ... sTec results for Q1 financial year 2013
The finger of blame was pointed by CEO Mark Moshayedi at his company's array-building partners - the original equipment manufacturers (OEMs) - during an earnings call. The chief exec said sTec was transitioning to a 50:50 OEM:non-OEM sales model by bulking up its direct sales force.
The OEM solid-state drive (SSD) market, he said, "has attracted much larger, more vertically integrated competitors and have become increasingly more challenging". sTec is in "transition from an OEM-centric model to a more balanced and diversified sales model. The high priority growth of this process is to become a more recognised brand to the enterprise end user customers", the boss added.
He didn't break down the current proportion of OEM sales to non-OEM sales but, given the fantastic rate of revenue decline as OEM sales fall, The Register suspects it's around 80 per cent OEM.
He talked about making sTec more accessible to end-users: "We've re-branded the company, launched a global channel program, [and] hired enterprise sales and marketing personnel with expertise in systems and applications."
Non-OEM customers will be a mix of channel partners and direct enterprise customers, it seems. There are no immediate product refreshes which could lift revenues; it's all down to the new sales force bringing in sales. It's that simple. Can sTec do it and reverse the revenue drop?
Next quarter revenues are projected to rise slightly, to between $23m and $26m but sTec will still make a loss.
Can Moshayedi build up non-OEM sales fast enough at sTec to compensate for the OEM revenue declines? Can he get sTec revenues up to the $65m to $75m break-even point? We'll find out in three months' time. ®
Similar topics
Broader topics