This article is more than 1 year old
YouTube launches subscriptions with 53 paid channels
Themed content starting at 99¢ per month
As expected, streaming-media giant YouTube has announced the launch of a new paid service that allows users to subscribe to content channels for a monthly fee.
"Today, there are more than 1 million channels generating revenue on YouTube," the company explained in a blog post on Thursday, "and one of the most frequent requests we hear from these creators behind them is for more flexibility in monetizing and distributing content. "
For now, only a few content publishers will be able to offer subscriptions. A quick glance at the list of pilot channels reveals just 53 participants, with topics ranging from comedy to children's programming to live sports.
YouTube says it plans to give those pilot channels a few weeks to iron out the kinks before rolling out the subscription program more broadly "as a self-service feature for qualifying partners."
Pricing for subscription channels starts at just 99¢ per month – down from the $1.99 we were hearing earlier. In practice, however, most of the pilot channels cost more. The Cars.TV channel costs $1.99 per month, for example, while motorcycle maintenance channel Fix My Hog Premium costs $6.99 per month.
In addition, some of the channels offer discounted rates when viewers pay for a full year of content, and all of them offer a 14-day free trial.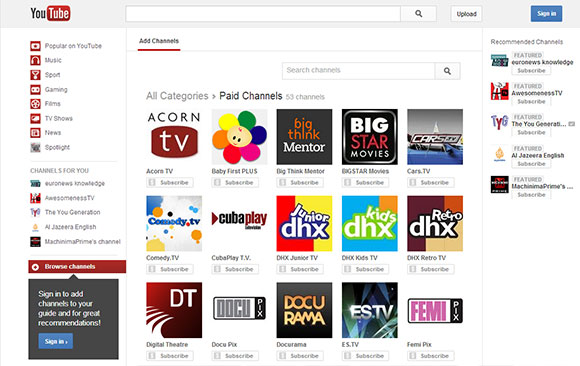 YouTube plans to add more paid channels to its line-up as they become available
During the pilot program, viewers will need to subscribe to channels using a desktop browser, although YouTube says they will be able to subscribe from more devices soon. Once their subscriptions have started, however, they can view their subscription channels from their computers, phones, tablets, and TVs.
"We look forward to seeing how this great community of creators moves ahead with a new way to reach the fan communities that made their channels a hit," YouTube says.
YouTube creators who are interested in starting up paid channels of their own in the coming weeks are invited to fill out a form on YouTube's website to request more information. ®