Fujitsu Integrated Systems stack up servers, storage, and switches
Anything Larry Ellison can do, we can do differently
---
Japanese IT giant Fujitsu will roll out a bounty of new – and, of course, cloudy – hardware and software offerings next week at its annual customer and partner confab in Tokyo.
Fujitsu was the first and only Microsoft Azure partner that got a public cloud puffed up based on the Windows stack and its own iron that is compatible with Azure, and it has been dabbling for the past year peddling what it calls Cloud Ready Blocks.
So it's no surprise that at the Fujitsu Forum Tokyo 2013 next Thursday and Friday the company will show off new Integrated System cloudy stacks that bring together orchestration software and Fujitsu iron as a pre-puffed private cloud, and also preview some fabric switches with software-defined networking features as it rolls virty nets into its cloudy wares.
Like just about all server vendors, Fujitsu is building its cloudy infrastructure on x86 processors – in this case the Xeon E5 processors from Intel that are inside of its Primergy RX series rack servers, Primergy CX1000 tray servers, and its Primergy BX400 and BX900 blade servers.
The smaller systems are based on the rack machines, but Fujitsu prefers the blade or tray machines for larger installations.
The pre-fabbed configurations range from an express model capable of supporting around 30 virtual machines in a small chassis to an enterprise model that can do about 300 virtual machines in a rack. The Integrated System makes use of Eternus DX90 block storage disk arrays, Eternus CS series data protection appliances, and various Ethernet switches made by Fujitsu.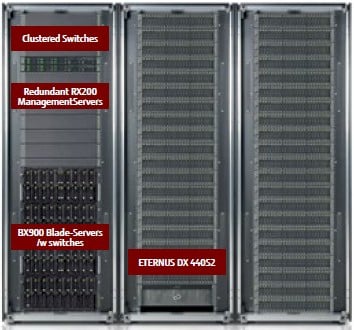 A Fujitsu Integrated System is a gussied up Cloud Ready Block
Fujitsu says that the configurations of the new Integrated Systems, which will ship in the middle of June with a starting price of ¥9.9m (around $97,700), are based on the experience it has in engaging with over 3,500 customers to build private clouds to date.
By going with a pre-puffed cloud, customers can save around 40 per cent off initial costs and about 60 per cent over a multi-year lifespan of the iron thanks to the integrated management software, called ServerView Resource Orchestrator.
This cloud control freak is being updated with a V3.1 release in June and can integrate with VMware's ESXi and Microsoft's Hyper-V hypervisors and also links into VMware's vCloud Director extensions to its vCenter management console. The Fujitsu software stack also includes ServerView Virtual-IO Manager, which virtualizes the links between physical servers and the LANs and SANs they talk to. ServerView Resource Orchestrator V3.1 has a base list price of ¥230,000 (around $2,260, and that is presumably a per-node-under-management charge).
There is no word from Fujitsu as to whether it will build similar cloudy infrastructure from its Sparc M series servers, but it certainly could if it chose to or if customers ask for it.
In addition to the Integrated Systems, Fujitsu is also previewing a bunch of new network gear at its Forum. The new converged fabric switches and network appliances plug into ServerView Resource Orchestrator and give a single view of server, storage, and networking infrastructure in the private cloud.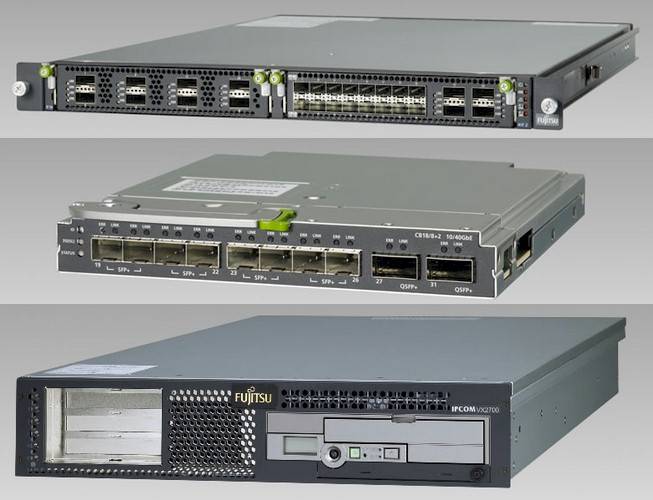 Fujitsu's two converged fabric switches (top) and virtual network appliance (bottom)
The details are a bit sketchy about the two fabric switches shown above, but one is a top-of-rack unit and the other looks like it slides into a blade chassis. In either case, the fabric switches are VM-ware and they can keep network links for virtual machines operational as those VMs flit around the cluster from server node to server node using live migration. The top-of-rack unit costs ¥3.6m ($35,400) while the blade unit costs ¥1.8m ($17,700).
The Network IPCOM VX Series machine is a virtual network appliance, which is just a funky way of saying a server that plugs into the network and runs virtualized versions of load balancers, firewalls, and other code that has traditionally been tied to specific hardware appliances. This virtual network appliance costs ¥1.9m ($18,700).
The important thing about this machine is that in a multi-tenant cloud, you can configure virtual load balancers and firewalls for each customer and link them to the virtual machines on the servers that each tenant is using.
All three network machines will be available in June. Their feeds and speeds are not yet available, or El Reg would tell you more. What Fujitsu did say is that it projects that it will generate about $100m from these three devices in the remainder of its 2013 fiscal year, which ends next March. ®