Fighting Fantasy and fantastic fights in tights
Steve Jackson's Sorcery!, Injustice - Gods Among Us and more
Game Theory This month's column has been unceremoniously cleft in twain. Why? Because, while May's big news will undoubtedly revolve around Microsoft's unveiling of its Xbox 360 successor, there are still a fine number of new releases to discuss.
Expect the second part of this month's Games Theory right after the dust has settled on all things Xbox. For now, take a look at three of the games that have been taking up my time in the past couple of weeks.
Steve Jackson's Sorcery! - Fighting Fantasy rolls on
"A large troll assails you, swinging a log the size of a tree trunk straight at your heroic face. Test your luck. Turn to 358 if you pass, or 79 if you failed..."
If the previous paragraph brings back rose-tinted memories of sharpened pencils, hastily scribbled notes and having your nose buried in a book that your mother would never have approved of, then chances are you were a fan of Steve Jackson and Ian Livingstone's Fighting Fantasy books.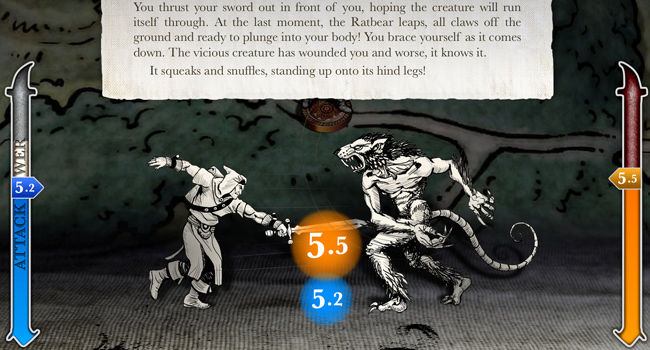 Put him on dice
The likes of The Warlock of Firetop Mountain, Deathtrap Dungeon and, indeed, Steve Jackson's Sorcery! were manna from heaven for adolescent boys seeking escapist thrills in the pre-internet era. Now, interactive book specialist Inkle has taken Sorcery! and crafted a textual adventure that feels delightfully true to the original.
Gone is the habitual Fighting Fantasy pre-rolling for initial scores of stamina, luck and skill, with such statistical calculations all being quietly number-crunched in the background. There's also no need to bring a pencil along on the journey, with your device tracking your stats and items for you, and even displaying a map of the kingdom of Kakhabad upon which you plot your route.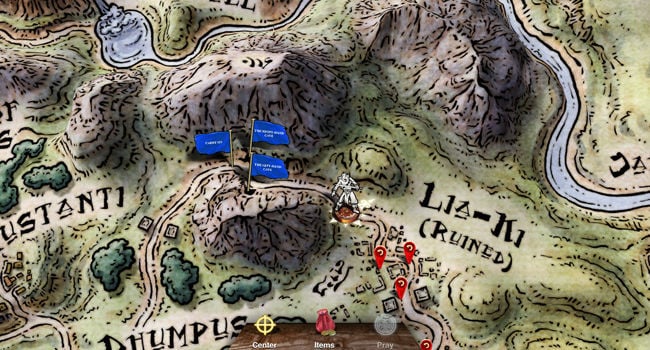 Better than graph-paper and pencil?
Sorcery! even offers you a get-out clause by allowing the repeating of previously explored areas. Therefore you might rewind an ultimately deadly decision to turn left, instead bearing right, albeit at the cost of anything gathered on your original endeavour.
Combat can be similarly replayed, which is just as well, for fighting the game's many beasts is quite the challenge. That's in no small part down to a combat system which incorporates equal shares of skill and luck in a nod to its paperback forebear.
It works like this: you have a certain number of attack points per turn, as does your opponent. From those you can opt for any strength of attack, from a full-on charge to a more defensive stance. Your adversary will do likewise, and whoever committed the most points to the attack will land the damaging blow.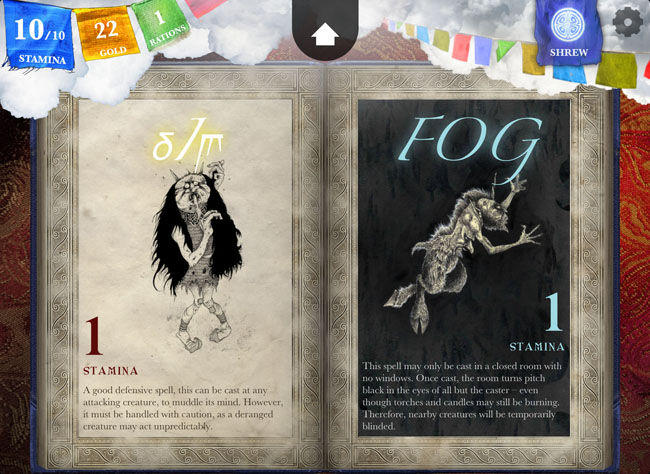 Spell checker
The strategy - and luck - comes into play on subsequent rounds, however, as only a portion of your initial attack points will regenerate, therefore making it pertinent to commit as few points per turn as possible. Too few, though, and it's you who'll be propping up the daisies of the Shamutanti Hills.