This article is more than 1 year old
Degenerate dwarfs tear neighbors limb from limb
Hubble finds twin aging mini-suns 'polluted' with planetary debris
NASA's Hubble Space Telescope has discovered a pair of white dwarf stars who have been "polluted" by planet-building elements that they have shredded and consumed.
White dwarfs – also known as degenerate dwarf stars – are the aging remnants of middle-sized stars that have cooled and collapsed upon themselves. Due to that collapse, they may be small but they're exceedingly dense; a white dwarf the size of the Earth, for example, would have a mass roughly equivalent to that of our Sun.
How dense is that? Well, a teaspoon of white-dwarf material would weigh several metric tons – or tonnes, if you'd prefer.
With that amount of mass, they pack a powerful gravitational pull – enough in the case of these two dwarfs, about 150 light years away in the Hyades cluster of relatively young stars, to devour asteroids and conceivably planets.
Hubble – or, more specifically, that space-searcher's Cosmic Origins Spectrograph (COS) – spotted silicon and "only low levels of carbon" in the star's atmosphere. According to NASA, this discovery reveals that the dwarfs have consumed planet-building materials from their system, since silicon is a major component of Earth-like planets, and carbon is a generally quite rare building block of planetary systems.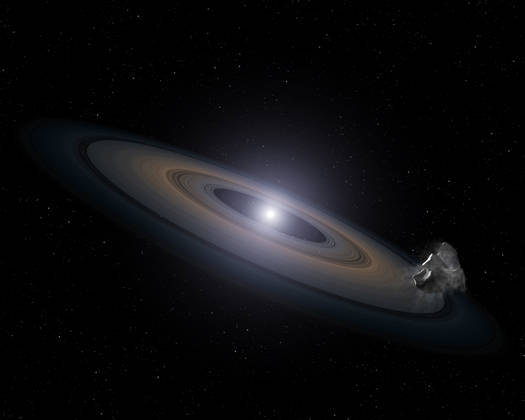 An asteroid begins its death spiral into the merciless maw of a degenerate dwarf (click to enlarge)
"We have identified chemical evidence for the building blocks of rocky planets," said Jay Farihi, lead author of a paper on the findings. "When these stars were born, they built planets, and there's a good chance they currently retain some of them. The material we are seeing is evidence of this. The debris is at least as rocky as the most primitive terrestrial bodies in our solar system."
According to Farihi, the debris found in the dwarfs are likely from asteroids around 100 miles in diameter that have been torn apart by the stars' massive gravitational fields. "It's difficult to imagine another mechanism than gravity that causes material to get close enough to rain down onto the star," he said.
Since asteroids are comprised of the same materials as rocky planets, its likely that Earth-like planets remain in the same neighborhood. In fact, Fahiri says, the discovery of planetary materials in such stars' atmospheres is an excellent way to determine if their systems contain rocky planets.
"Normally, white dwarfs are like blank pieces of paper, containing only the light elements hydrogen and helium," he said. "Heavy elements like silicon and carbon sink to the core. The one thing the white dwarf pollution technique gives us that we just won't get with any other planet-detection technique is the chemistry of solid planets."
In addition, as NASA's announcement of the findings notes somewhat fatalistically, "it offers insight into what will happen in our own solar system when our sun burns out 5 billion years from now." ®