Rackspace shares crater in drab results aftermath
Failure to lassoo public cloud pushes Texans off cliff
---
Rackspace's shares have fallen off a cliff after the Texas cloud company reported less than glowing revenues.
In a sign of the fractious affections of the financial market, the company's shares were down almost 25 per cent in trading on Thursday, following Wednesday's lackluster results.
Though Rackspace grew revenue 20.2 per cent and upped income by 17.6 percent, vampire-squid traders punished the firm and lopped off a quarter of its value, with shares closing on Thursday at a nine-month low.
The drop in value was not unexpected – El Reg thought this would happen – but the scale of the sell-off is sure to send tremors through the upper echelons of the company.
As for the reasons behind the sell-off, we suspect it could be the slow quarter-to-quarter growth. Rackspace, though notching up higher revenues, had only managed to grow revenue in its OpenStack-based public cloud business by 4.1 per cent compared to Q4 2012. Growth in its traditional hosting business was a mere 2.2 per cent.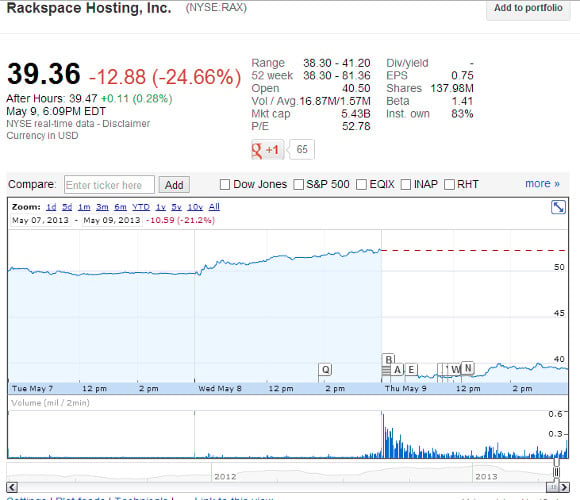 Falling from the clouds
We would note that the slow growth in Rackspace's cloud service contrasts with a heavy multimedia campaign promoting the benefits from its "open sourced" cloud, and with the increasingly vocal and expansive community of people backing OpenStack.
The crimp may also have come from Rackspace implying that it is readying itself for a price war with Google, Amazon, and Microsoft – something which it may not be large enough to do.
"Don't be surprised if we are continually lowering prices on certain products," the company's VP of finance had said. "We are a cost-plus shop." ®