This article is more than 1 year old
New Ubuntu for phones due 'by end of May' – usable this time
Team vows to 'dogfood' its own OS
When Canonical released the Developer Preview of the smartphone version of its Ubuntu Linux OS, it warned users that it was only an experimental snapshot and that it couldn't replace their current handsets. That could change soon, however, as one Canonical exec has vowed to make an Ubuntu device his day-to-day phone by the end of this month.
From The Reg's perspective, that sounds like a tall order. When we installed the Developer Preview on a Nexus 7 tablet in February, what we found was little more than a mocked-up demo of an OS that had yet to be developed.
Most of the preinstalled "apps" were really just placeholder icons, and what functionality had been implemented was bare-bones. Data networking was possible over Wi-Fi only. The camera and media player didn't work. Even the browser seemed amateurish, without so much as support for bookmarks.
To his credit, Rick Spencer, Canonical's VP of Ubuntu engineering, seems to acknowledge the problem.
"Of everything that is missing, it's hard to know what is really the most important unless you can really use it and find what you have to work around, versus what you can just do without," he wrote in a blog post on Wednesday.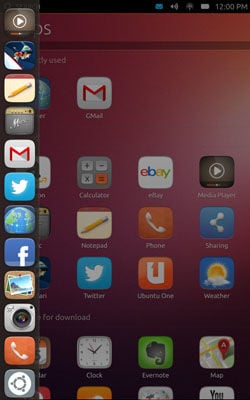 If these were real icons, you could
be using this phone right now
To help remedy that, Spencer says he would like to get the smartphone version of Ubuntu into a state where he and the rest of the Ubuntu development team can use it as their day-to-day, walk-around phones. Furthermore, he'd like to do so as soon as possible – hopefully by the end of the month.
Mind you, that's not to say he expects to get Ubuntu on par with mature, polished platforms such as Android and iOS in a matter of weeks. Instead, he's set a short list of modest, yet achievable goals.
By the end of May, Spencer would like an Ubuntu phone that can make and receive calls and SMS messages; allows you to browse the web over either Wi-Fi or 3G and switch between both; lets you add, edit, and import contacts; retains your data even after you re-flash the OS firmware; and will dim the screen using the proximity sensor when you're talking on the phone.
According to Spencer, if the development team can achieve all of that, at least some of them will be able to start "dogfooding" Ubuntu by using it as their everyday phone OS.
"Of course, there will be a lot missing," Spencer admits. "Off the bat, I can thinking of things like the ability to find and install new apps, hardware not working on certain reference hardware (camera on Nexus 7 for example?), lots of missing features in existing apps, etc..."
Here at Vulture Annex we could certainly help enumerate that list. But why bother? We'll be happy to take another look at the mobile version of Ubuntu when Spencer and team release a dogfoodable version toward the end of the month – fingers crossed. ®