El Reg drills into Office 365: What's under the hood?
Sysadmin Trevor tells us what's the score
---
Microsoft's cloudy services offering have had an overhaul. Office 365 is faster, stronger, smarter, better and more like TIFKAM (the interface formerly known as Metro), or Modern User as it is now called, than ever before. The new overhaul is a major upgrade in usability and administer ability.
Let's take a peek under the hood and see what is on offer.
The first thing to note is that Office 365 comes in a  variety of tiers.
These stretch from email-only at £2.60 per user per month (with an annual commitment) through to the Small Business plan at £5.20 per user per month and Mid-sized Business at £9.80 per user per month all the way to the with-bells-on Enterprise E3 plan at £15 per user per month (again, with an annual commitment). Finding the right package takes a little nosing through the website.
What's in the box
The small-business package is pitched at up to 25 users and the mid-sized one at up to 300 users. Enterprise is unlimited. The mid-sized and enterprise packages include an installable copy of Office for up to five PCs or Macs per user.
All plans are compatible with desktop versions of Office 2007, Office 2010, Office 2013 and Office 2011 for Mac, but sadly there are no installable iPhone or Android versions available yet.
For customers who just want to subscribe to Office in the cloud there is Office 365 ProPlus. This includes Word, Excel, Powerpoint, Outlook, OneNote, Access, Publisher and Lync. This is more of an enterprise option and costs £10.10 per user per month.
Office 365 subscribers gain access to Office Web Apps. These are in-browser variants of the installable Office applications. Currently supported are Word, Excel, Powerpoint and Onenote. Hosted email plan customers do not have access to Office Web Apps, but can view attachments.
Email is provided by Exchange Online, the Office 365 variant of Microsoft's Exchange Server. Previous versions of Exchange Online included Forefront Online Protection for Exchange (Fope). This has been replaced by Exchange Online Protection, in which the administrative interface for spam and malware protection has been completely reworked.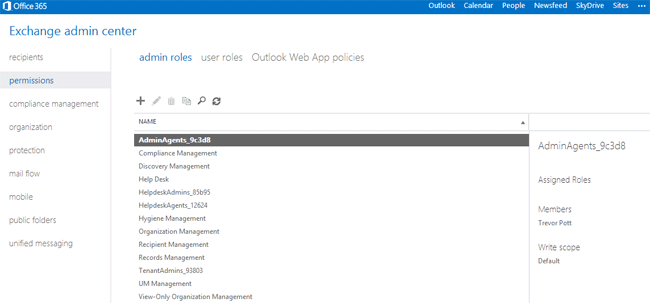 Fope was complicated and decidedly user-unfriendly. It was designed for dedicated exchange administrators who had time to wade through thick tomes of technical information before daring to touch the sacred controls.
Exchange Online Protection is designed to be comprehensible to the small-business power user who has been jumped up to Office 365 admin in a company without any real sysadmins. Microsoft has done a wonderful job cleaning this piece of the interface up and deserves an accolade for it. (Yes, I just complimented Microsoft on a user interface, try not to faint.)
In addition to Exchange Microsoft offers Lync Online, Microsoft's unified communications service. It offers instant messaging, voice, video and desktop sharing and also merges other collaboration elements by integrating tightly with Outlook/Exchange for email and Sharepoint.
Speaking of Sharepoint, that is also part of Office 365. Sharepoint Online is perhaps the most natural fit for a subscription cloud app that Microsoft has in its arsenal.
Sharepoint in the enterprise is a finicky, miserable-to-administer thing requiring a fair amount of expertise. Sharepoint in Office 365 has its own App Store. This moves it on from the Wordpress-for-business role it typically has when installed on premises to something more akin to collaboration-as-a-service. I have never had much time or use for Sharepoint before but the Office 365 version has opened my eyes to its possibilities.
There is Skydrive Pro for file sharing and synchronisation. It works well and integrates directly into the installable version of Office. If there is a quibble to be had it is that it comes with only 7GB per user.
Enterprise users of Office 365 can turn to Active Directory Integration to enable single sign on between their local domains and Office 365. There is also Project Online for those who want it and Microsoft covers the whole lot of its cloudy offerings with a 99.9 per cent guaranteed uptime service level agreement.