Ancient thumb-driven whirly-wheel smartmobe UI ported to Android
Fandroids, come see what the future might have been
---
The mobile interface designed to kill the iPhone has finally launched, but as an Android freebie rather than aboard the revolutionary handset we were promised in 2009.
The handset, known as the Else, was built by Emblaze, a company better known for encoding video and suing Apple than making phones. With the help of Japan's Access Co it created a phone driven by an interface unlike any other.
Access had no real experience with phones either. However, its NetFront browser was, and remains, hugely popular in Asia - and that provided enough money for Access to buy PalmOS and create the Access Linux Platform, which the Else was supposed to showcase.
However, Splay, the thumb-driven interface which enables users to navigate the device's contents using a single digit, was the really eye-catching feature. The interface is now available for free in the Android store.
At a time when Apple had defined how smartphones should look, the First Else was something new, prompting the Telegraph to name it the "iPhone killer" and to wax lyrical about the interface: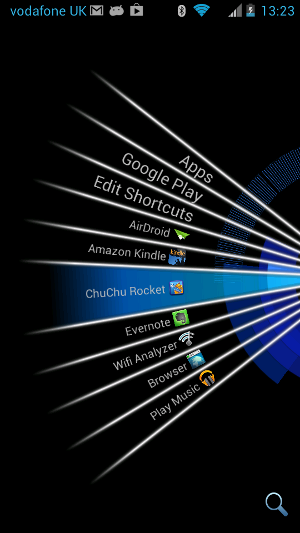 Left-handers just have to use a finger, or learn to be normal
"It's hard to describe the neatness of the menu structure, the sleekness of the device itself, the striking elegance of interaction when all your information is integrated across all your applications, without sounding like I've joined a cult. But truly, this phone's interface is a thing of beauty," the Telegraph enthused.
Engadget admitted drooling over the interface and while our own James Sherwood was less effusive there was certainly something refreshing in the splaying interface, consisting of descending menus presented as concentric circles and navigated with a single digit.
Four years later it's not quite so new. The stock Android browser offers the same thing, as a "Labs" option, but there's no denying the Splay interface is slick: even if it doesn't quite live up to the promotional video, which told us to join the revolution before it was too late.
Since then, the publicly listed Emblaze has kept itself busy selling PIM synchronisation software and buying back its own shares. The Android port of the interface is clearly making use of code the company had lying around, to see if there's any commercial interest and remind people that Emblaze still exists. Despite that, it's worth giving Splay a whirl - if only to see what might have been. ®