Løvefïlm signs hit beards'n'berserkers series Vikings
Will Amazon streaming service rune the day?
---
British and German fans of horned helmets, dragonships, bloodeagles, forked beards and berserker frenzies will need to avail themselves of a LOVEFiLM LoveFilm subscription if they want to catch the History channel's popular new historical potboiler, Vikings.
The Amazon-owned video streaming service blew its gold-rimmed horn louder than rival services to beat them and broadcasters to History's answer to HBO's Game of Thrones, albeit focused more on mud, shit and beards and less on fantasy.
It is, says, LoveFilm, an everyday tale of "warfare, sex, bloodshed, ambition, family and brotherhood". So, yes, it really is Game of Thrones rather than Noggin the Nog.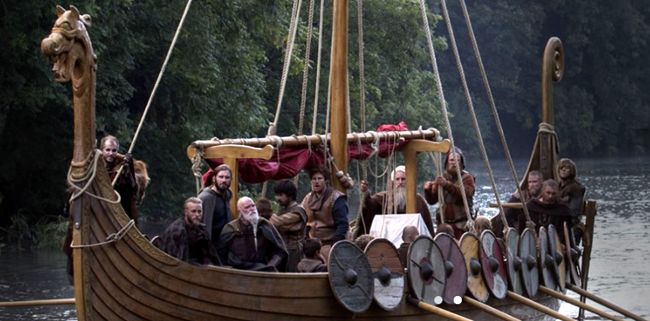 Rape! Pillage! Slaughter!
Whatever, it stars the usual mix of young actors and underwear models you've probably never heard of, but it also feature the highly watcheable Gabriel Byrne in probably his first role as a Dark Age monarch since appearing as a crop-top Uther Pendragon in John Borman's splendid Excalibur in 1981.
"You betrayed the Duke. You stole his wife. You took his castle. Now no one trusts you."
Let's hope he doesn't make the same mistake as Olaf the Hairy, High Chief of all the Vikings, who accidentally ordered 80,000 battle helmets with the horns on the inside.
The Vikingspilot drew six million viewers when it premiered in the US in March. Game of Thrones, now established and on its third season, has so far managed no more than 5.5 million. Both figures come from audience tracker Nielsen.
Vikings was created and written by Michael Hirst, who wrote Elizabeth - the one starring Galadriel - and Showtime TV series The Tudors - the one with the young, skinny Henry VIII.
LoveFilm has all nine episodes of Vikings queued up on its servers, and it will make them available for streaming on 24 May. It has a year-long exclusive. ®